Father Of Russian Schoolgirl Who Drew Anti-War Picture Detained In Minsk
25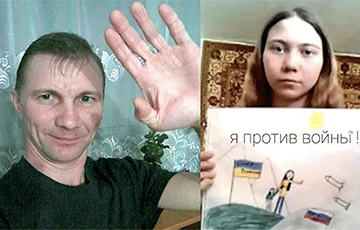 Aleksei Moskalev was "found out" because his cell phone was switched on in the apartment.
Aleksei Moskalev, father of a schoolgirl from Tula, who drew an anti-war drawing at school, was detained in Minsk. It is reported by SOTA. The detention presumably occurred due to the activation of a cell phone in the apartment.
Moskalev escaped from house arrest on the night of March 28. After that, he was sentenced to two years in Efremov in Tula for repeated "discrediting the army".
On March 2, Moskalev was put under house arrest and his daughter Masha was taken away to an orphanage. Since then, the girl has not been allowed to see anyone and to communicate with the outside world. The Commission on Juvenile Affairs went to court to deprive the father of his parental rights.
Moskalev says law enforcement authorities became interested in his family in April 2022, when Masha drew a picture with the Ukrainian flag and the inscriptions "No to War" and "Hail to Ukraine". The art teacher denounced the child to the principal; the police came to the school the same day.
Soon the 53-year-old Moskalev, who is raising his daughter alone, was drawn up a protocol for "discrediting" the army. The reason was a comment in Odnoklassniki. Then the Efremov resident was fined 32 thousand rubles. In late December, the Moskalevs' home was searched, father was questioned by the FSB, and, according to him, beaten. A criminal case was instituted for repeated "discrediting". The case includes posts on Odnoklassniki about the murders of civilians in Bucha and other crimes. Moskalev claimed during the trial that he had not published these posts and that his page on the social network had been repeatedly hacked.
"Memorial recognized Aleksei Moskalev as a political prisoner.