Has Coronavirus Come Back To Belarus Again?
31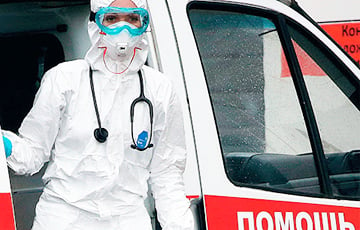 Premises in hospitals are divided into "clean" and "dirty" zones again.
Has the coronavirus come back to Belarus again? The whole family of a Charter97.org reader has fallen ill.
"While people had four-day holidays in Belarus, my family was lying ill. The son brought the disease from school at the beginning of the week, and at the end of the week I also fell ill," our reader said.
"The disease developed very quickly. In the morning I felt weak, my somatic temperature was 37С. I left for work and felt unwell. It was rapid. My somatic temperature rose to 39C two hours later. My usual blood pressure of 110-120 jumped to 160 and had a heavy headache. I called an ambulance, and they advised me to take Captopril, but the blood pressure did not decrease.
My bones aching, my nose and throat were swollen. I was laying in bed for four days like that. Then my wife and daughter contracted. The wife had to go to visit a hospital. Imagine her surprise when, having entered it, she found out that the medical facility was again divided into "clean" and "dirty" zones. The medical workers were wearing covid protective suits and masks. The patients were also to wear masks. There were a lot of people, but not critical. So is it really the flu at the end of April, or is it still Arcturus, the latest COVID variant, that is now spreading across Russia? The Ministry of Health did not inform us as usual. 'Do you see it? You don't see it, and I don't see it, which means it doesn't exist.' That is what the dictator said once," wrote a reader of the Charter97.org website.