The 'Barynya' Operation: Russian Officer Goes Over To Ukrainian Side, Luring 11 More Servicemen With Him
18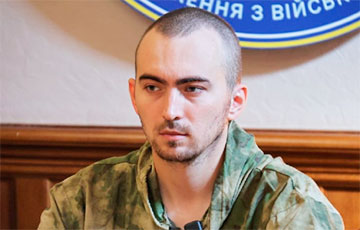 The Defence Intelligence revealed the details of the unique recruitment.
The Defence Intelligence of the MoD of Ukraine conducted the special operation "Barynya", during which they managed to recruit the Russian military man Daniil Alferov. He led 11 occupiers into captivity.
Representative of the Defence Intelligence Andriy Yusov spoke about this during a press conference, Ukrinform reports.
According to him, Alferov is a lieutenant, a career military man of the Russian Federation, who has actively collaborated with the Security and Defence Forces of Ukraine and intelligence since June 2023.
"Alferov convinced and voluntarily transferred 11 Russian servicemen into captivity in several batches. When there was a threat to Alferov's life, Ukraine carried out a special operation for his controlled withdrawal to Ukrainian territory," Yusov said.
The military man himself said at the conference that he contacted the Ukrainian side through the "I Want to Live" project. He says that he was offered to find occupiers who wanted to surrender — during the period of cooperation, Alferov supervised three such groups.
"After they started to suspect me, I told the curator from "I Want to Live" that I was out. Once on the territory of Ukraine, I met with Ukrainian special forces, I went through all the procedures provided for Russian military personnel who surrendered," he added.
Earlier it became known that the Defence Intelligence conducted an unprecedented special operation called "Tit", which lasted six months. On August 23, reports emerged that a Russian Mi-8 helicopter and its crew had flown to Ukraine and surrendered to the Ukrainian Defense Forces.
The plane was flying between two air bases and transporting parts to Russian aircraft. Along with the pilot, there were two crew members on board who did not know where the helicopter was actually flying. Mi-8 landed in the Kharkiv region. As a result of the special operation, two crew members were eliminated.
Pilot Maksim Kuzminov and his family are now in Ukraine. The Mi-8 remained here along with parts for fighter planes that were supposed to be delivered to the Russians. It will replenish the Ukrainian fleet of combat helicopters. The Russian pilot will receive $500,000 and new documents as part of the state program.
Yusov said that after the Tit, the number of Russians who want to surrender has increased by 70%.