Oppositionists stand trial in Minsk for rally of solidarity with Georgia (Video, Photo)
1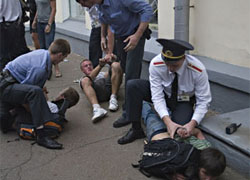 A trial over the activist of the Young Front Ludvisya Atakulava is to take place today in Minsk court of Tsentralny district. She was detained yesterday near the Russian Embassy during the action of solidarity with Georgia. The girl has spent the night under arrest.
The 20-year-orl girl is accused of unsanctioned picketing. Police major Gryshchanka, a policeman notorious for beating up youth activists, personally commanded to arrest her.
The rally of solidarity with Georgia was held by the Young Front near the Russian Embassy in Minsk on August 11. 15 activists of the organisation gathered near the Embassy with streamers: "Stop aggression", "Russia-Georgia: war with peacekeeping goals?" "One sixth part of land – is it not enough?"
Participants of the rally managed to pass the petition to officers of the embassy. The picket lasted for about 10 minutes. Then policemen arrived. Ilya and Ivan Shyla, Andrei Tychyna and Lyudvisya Atakulava were detained. Activists were detained brutally. Policemen had machine-guns, they were wringing hands of the activists. As a sign of protest, activists sat on the ground. As a result, policemen were to carry the activists to the police car in arms. The Young Front activists were taken to the police department of Tsentralny district of Minsk.