Russian ambassador Surikov to Lukashenka: "We always share your distress in international organisations"
106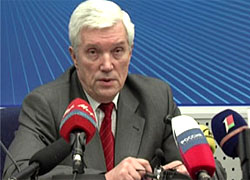 Russia's ambassador to Minsk, Alexander Surikov has expressed misunderstanding of the position of Belarusian authorities towards war with Georgia. "It is completely incomprehensible for us, why the state authorities of Belarus are keeping silent timidly," Surikov said at a press-conference in Minsk on Tuesday.
As said by the Ambassador, over the whole period of time of the conflict only a statement of Foreign Ministry's minor official" has taken place from the Belarusian side. "And as for us, we always share your distress in international organisations, including when economic sanctions are imposed; when on initiative of some countries international organisations start to discuss absence of human rights in Belarus. Vocal statements by Russia always follow after that," A. Surikov noted. The Ambassador has underlined that "the shy and quiet keeping silence puzzled us". "One should express one's opinion on such issues more clearly, and especially it's true for allies," A. Surikov said.
Answering questions of journalists, the Ambassador has said with regret that the Belarusian side hadn't offered humanitarian aid. "We understand that the Constitution of Belarus prohibits using military force outside the territory of the country, but the humanitarian constituent could be present," he stressed.
The Ambassador noted that Belarus and Russia are building the "union state". Thus, "citizens of Russia who have got into a humanitarian catastrophe, in some way are citizens of Belarus," the Russian diplomat believes.