Chavez to Laukshenka: "I have brought you greetings from axis of evil"
22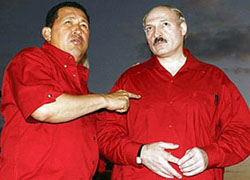 During the meeting in Minsk, Alyaksandr Lukashenka expressed gratitude to Venezuelan president Hugo Chavez for the support he offers, including financial aid.
"I would like to thank you for the colossal support you offer to our country. It is both the financial aid, and the fact that our joint oil refinery is working successfully, and even has secured profit. We are indebted to you and the Venezuelan nation a lot," Alyaksandr Lukashenka told to the president of Venezuela during their meeting in a residence near Minsk Tuesday evening.
Addressing Hugo Chavez, Lukashenka noted: "I would like to greet you in your favourite country, Belarus". "I am very happy that you have arrived to Belarus despite of all kind of collisions, and we treasure that," the Belarusian leader said. He assured Hugo Chavez that Belarusians will stay committed to the agreements reached before this visit and those that can be made during the visit. "All your requests and proposals are a law for us," the Belarusian leader underscored.
In his turn, the Venezuelan president stated that he always comes to Belarus "with an open heart". "When I go on a tour, I always stay here for at least two or three days," Chavez said.
Venezuelan president noted that he had visited a number of states during his tour. "I have brought greetings from the "axis of evil" to you," Hugo Chavez said, conveying greetings from leaders of Cuba, Algeria, Libya and Turkmenistan. "I have brought greetings from gentleman Berlusconi (Italian Prime Minister). "But he (Berlusconi) is not a part of the axis of evil yet," A. Lukashenka observed.
Alyaksandr Lukashenka and Hugo Chavez many times stated their friendship and exchanges visits. It will be the fourth visit of Hugo Chavez to Belarus: his previous visits took place in 2006, 2007 and 2008. In December 2007 an official visit of Lukashenka to Venezuela took place.
One of the main interests of Belarus in Venezuela is participation in development of oil fields. Recently Lukashenka confirmed that Minsk plans to continue to look for ways to buy energy resources alternative to Russia, which includes Venezuela.
Spanish El Pais published an article informing that Venezuela was going to sell arms to rebels of the Revolutionary Armed Forces of Colombia (FARC) with the help of Belarus.
Interpol experts confirmed identity of the documents showing financial relations between Venezuelan president Hugo Chavez, the Belarusian government and the terrorist group Revolutionary Armed Forces of Colombia.