Only opposition invited to Euronest to represent Belarus
26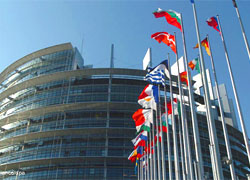 Belarus would be represented only by the opposition in the Parliamentary Assembly of the Eastern Partnership before the democratically elected parliament appears in the country.
On January 27 a session of the Euronest bureau took place in Brussels. A format of participation of six countries of the "Eastern Partnership" in the Parliamentary Assembly of the Eastern Partnership (EURONEST PA, EU-Neighborhood East Parliamentary Assembly).
Jacek Saryusz-Wolski, MEP, Vice-Chairman of the Delegation to the Euronest Parliamentary Assembly, told to Radio Svaboda that 10 members of parliaments from Azerbaijan, Armenia, Georgia, Moldova and Ukraine are to be invited to the Euronest, while 10 observers from oppositional parties and civil society are to be invited from Belarus.
Saryusz-Wolski added that only observers are to represent Belarus before the democratically elected parliament appears in the country.
The MEP has also said that the European parliament plans to send a mission to Belarus, most likely in February, in order to define the group membership of observers who are to represent Belarus in the Euronest.
As for the rules for forming such a group of Belarusian observers he said:
"Our idea is to invite one representative of five oppositional parties: Liberals, Conservators, Social Democrats, Communists and Christian Democrats, and five representatives of NGOs, such as "For Freedom" movement, independent journalists, and independent trade unions, ethnical and religious minorities. It is a preliminary conception, which is to be discussed during the work of the mission of the European Parliament in Belarus".
The first session of the Euronest Parliamentary Assembly is to take place on March 24.
We remind that earlier Syarhei Maskevich, Chairman of the "house of representatives'" Foreign Affairs and Ties with the CIS Standing Committee in the illegitimate Belarusian "parliament", told opposition representatives in the Euronest will put Belarus' participation in the Eastern Partnership under threat.
When the European Radio for Belarus quoted Maskevich as saying to Saryusz-Wolski, he said: "We don't recognize the Belarusian "House of Representatives". Nobody is expecting them to agree. Actually, they don't have to".
In 2009, Europeans were in talks with official Minsk over the participation of the Belarusian delegation in Euronest in the 5+5 format (five MPs + five opposition representatives). But the Belarusian side had rejected this proposal.
We remind that the decision about 10 observers representing the democratic opposition from Belarus was adopted by the last European Parliament. It is based on non-recognition of the legitimacy of the Belarusian "parliament" by the EU and the European Parliament. Basing upon the conclusion of the OSCE/ODIHR. "The parliamentary election" held in Belarus in autumn 2008, like the previous ones, was recognized by the international community as not free and not fair.