EP condemns abductions, killings and arrests of oppositionists in Belarus
20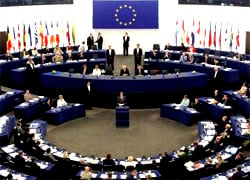 The resolution adopted by the European Parliament calls upon the Belarusian authorities to investigate abductions of youth activists and death of a BPF activist as well as to free political prisoners.
The resolution was adopted by a majority of the votes on December 17. The European Parliament regrets that the Belarusian authorities do not demonstrate significant progress after a range of positive steps was made.
A call upon the Belarusian authorities to investigate abductions of youth activists and death of Valyantsin Dounar, an activist of the Belarusian Popular Front from Maryna Horka, was included in the resolution before voting, BelaPAN reports.
The document contains a call upon the Belarusian authorities to review sentences against participants of the Case of 14, in particular Artsyom Dubski, and release immediately businessmen from Vaukavysk Mikalai Autukhovich and Uladzimir Asipenka.
MEPs urge Minsk to continue cooperation with the OSCE on reforming electoral legislation and developing a dialogue with democratic opposition, in particular defining a role of the Public Consultative Council at Lukashenka's Administration.
The MEPs expect the Belarusian authorities to reform the Law on Mass Media next year in line with recommendations of international experts; repeal article 193-1 of the Criminal Code; allow the registration of political parties and civil society organisations; create favourable conditions for the operation of NGOs and independent media.
The document welcomes a decision by the European Council to prolong sanctions against certain Belarusian officials whilst suspending the application of travel restrictions until October 2010. MEPs think the human rights dialogue between the EU and Belarus "must lead to concrete results and substantial progress in the fields of democratic reforms and respect for human rights and the rule of law". If this progress is noticed, sanctions will be completely lifted and integration process will be speeded up, the resolution notes.
It is also recommended to draft a proposal on a joint interim plan for Belarus setting priorities for reforms in order to revitalise the suspended ratification procedure for the EU-Belarus Partnership and Cooperation Agreement.
A dialogue on Euronest must be fruitful, the resolution says. Belarus will be invited to participate fully and on an equal basis in the Euronest Assembly as soon as free and fair elections to the Belarusian Parliament take place and considers that until then interim provisions should be applied.
The EP calls on the European Commission to prepare recommendations for the possible adoption of directives on visa facilitation and readmission agreements with Belarus.
The resolution recommends the European Investment Bank and the European Bank for Reconstruction and Development to consider increasing their financial assistance to Belarus, paying special attention to the situation of small and medium-sized undertakings.
MEPs call on the Government of Belarus to establish an "immediate moratorium" on all death sentences and executions with a view to abolishing the death penalty. The resolution also urges the Belarusian authorities to recognise the Union of Poles in Belarus led by Andzelika Borys and respect the rights of national minorities.