Iryna Khalip: "I have only one version – secret services threatening me"
36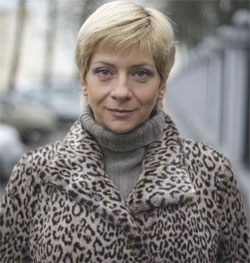 An act of some huge political play staged for a powerful lot of money is taking place in Belarus.
Before the article about Badri Patarkatsishvili's legacy was published in "Novaya gazeta", a Belarusian journalist Iryna Khalip received emails, phone calls and telegrams with threats.
Today the article "War for oligarch's legacy" has been published. Iryna Khalip answers questions of charter97.org website.
- Iryna, why have you decided to return to the high-profile case of US lawyer Zeltser arrested in Minsk, and to the story of Badri Patarkatsishvili's legacy?
- The reason is that all Belarusian journalists seemed to be interested in details of Emanuel Zeltser's case. This was no everyday occasion when a US lawyer arrived to our country, was arrested by the KGB. And I do not remember another occasion when a US citizen was placed to the KGB prison. It was obvious that when a person which had never visited Belarus was arrested, and obviously he was not a spy or CIA agent, an act of some huge political play staged for a powerful lot of money was taking place in Belarus.
So when I had a possibility to meet with Emanuel Zeltser and Vladlena Funk in New York, I couldn't miss it. Frankly speaking, I had in view to write a detective story with new details. But I didn't expect I would be involved in this detective story myself.
- You started to receive threats with a demand not to publish the article. What could be the source of the threats?
- I can have only one version. As the email with threats I received on the next day after I sent the article to the editorial office by email, it became clear: only those who have a possibility to intercept emails of others could make threats to me. In our country it's a prerogative of secret services. Especially considering that their role in these discreditable practices is discussed in the article, and moreover, concrete names were mentioned. KGB servicemen are used to stay nameless and faceless; they cannot be spotted in the crowd. They do not like when their illegal and sometimes criminal actions become known with the names of perpetrators. Moreover, when their actions are made under the order of some "unofficial persons" like Boris Berezovsky or his lawyer Goldsmith.
By the way, the letter was signed allegedly by Berezovsky. I certainly called him and told about that. Boris Berezovsky flatly denied the fact that he had something to do with that and expressed a guess that those had been KGB actions. Apparently he has studied their methods during his cooperation with Belarusian secret services while they fabricated Zeltser's case.
- Then there was a phone call with threats, then a telegram. Did you have a thought to elect not to publish the article? You have a little child…
- I was desperately afraid without doubt. It would be silly to say that it was fun for me. With every time I became more and more convinced that secret services threatened me, most likely, the KGB. In the telegram there were direct hints to my phone conversations on the previous day and to emails I sent a day before the telegram.
Moreover, the day before the telegram was received by me, my son fell ill, and all the day I called to my mother and we talked about his state of health. And there was a text in the telegram: drink your son's health if you do not care for your own health. But in such cases openness and public awareness is the only guarantee of security.
- Iryna, from your experience, how dangerous it is to carry out journalistic investigation?
- It is not easy to carry out journalistic investigation in any country, and it is hundredfold harder in Belarus. Studying some topic, a journalist never knows where "an explosion" can happen. In our country journalists are threatened, they are thrown to prisons and murdered. It would seem that one should sit and think about the outcome before writing anything. But the peculiarity of our country is that consequences are impossible to figure out in advance. It could be done if there is some logics in actions of the government, but when there is no logics, any actions can be expected, and one does not always understands what had provoked them. For instance, I didn't expect such a disruptive reaction to my unpublished article.
- The events of the recent days in Belarus are abductions of youth leaders, the murder of the BPF party activist, threats to you. What does it mean? Are these events coincidences or a trend?
- I cannot consider that a coincidence for at least one reason: too many of such events per. Such coincidences are impossible, and most likely it is a trend. Sometimes it seems to me that the events taking place now, including abductions of youth leaders, is inadequate reaction of the regime to the simple fact that we are still alive and continue doing something, instead of locking ourselves in kitchens like some our citizens, hiding the phone under a pillow and angrily inculpating this nasty regime over a bottle of vodka.
Recently I often recalled Zeltser, who had gone through all circles of the hell over the year and a half in the Belarusian prison, but hadn't written an application for pardon. Even this not very young man in poor health in a strange country where he had no relatives or friends, has gone through all that. He survived, he hadn't given up, and finally he won, as he hadn't admitted guilt. The same happened to his assistant Vlada. By the way, they are going to tell about their tribulations in Belarus to the Western press. I was glad to see them in New York alive and well, and strong after all the trials they had to endure.
Each of us has friends and relatives here, we have people who feel with us and support us. Logically, it should be better for us to resist. And that is why I want to say: people, do not sit in your kitchens, it hasn't saved anyone.