Kremlin: Lukashenka won't get cheap gas
81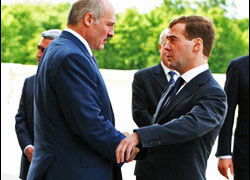 Before Lukashenka's meeting with Medvdedev, sources in the Kremlin told to Russian media that Belarus must pay debts for gas.
Belarus must unconditionally adhere to obligations for paying for Russian gas deliveries. Such a statement has been done by the Kremlin on the eve of today's meeting of Dmitry Medvedev and Alyaksandr Lukashenka. The source in the administration of Russian president reminded "Interfax" that as of May 1 indebtedness of the Belarusian side to Gazprom was about $192.3 mln.
As said by a Kremlin source of another agency, RIA Novosti, it is expected that during the talks in Moscow "issues of cooperation in the fuel and enegry sphere would be raised, including oil and gas deliveries, which are carried out in strict adherence to earlier reached agreements on phased transition to the principles of market-based price formation in mutual trade".
The Russian side, as the interlocutor of the agency underlined, "is in favour of unconditional keeping of the accepted obligations in this sphere, inculding the ones for payments of the Russian gas".
We remind that earlier Vice Prime Minister of Russia Igor Sechin stated that the issue of Belarus' extinguishment of debt for Russian gas is to be solved within the legal framework.
Now the contract price of gas deliveries to Belarus is $169 per 1,000 cubic metres, however Belarus still pays $150, which has caused an indebtedness. According to Gazprom evaluation, Beltransgaz debt can grow up to $500-600 million by the end of the year becuase of paying less than the contractual price.
The main topic of the talks between Medvedev and Lukashenka are issues of the Customs Union formation. However, this week Minsk has published a list of its claims to Moscow, among which are gas price decrease and cancelling export duties for oil products deliveries.