Jude Law and Kevin Spacey against dictatorship of Lukashenka (Photo, video)
86
The Press Association
29.03.2011, 3:36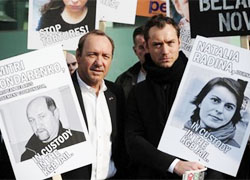 World's cinema stars joined a picket in London centre and expressed their protest against arrests of opposition members in Belarus.
A picket organized by the Belarus Free Theatre, and London-based Young Vic Theatre and Almeida Theatre, Index on Censorship human rights organization and the Belarus Committee in London was held outside the office of Grayling firm in central London on March 28.
Grayling's business with Belarus caused a scandal in the United Kingdom. The public relations firm led by Conservative peer Lord Chadlington is conducting a PR campaign to attract foreign corporations to invest in the last dictatorship of Europe, where political opponents of Lukashenka have faced mass and brutal crackdown.
In fear of even louder scandal, Grayling leaders invited heads of the Belarus Free Theatre Natallia Kaliada and Mikalai Khalezin, arrested presidential candidate Andrei Sannikov's sister Iryna Bahdanava, and representative of Index of Censorship Mike Harris for a dialogue trying to persuade them from holding the picket. It was arranged that the lawyers, who are currently initiating criminal proceedings against dictator Lukashenka, would not attend the meeting.
The firm representatives and picket organizers failed to reach agreements during the talks. Grayling's representatives suggested they could join the protest action and announce closing of their office in Belarus. "We did not agree. We continue the campaign of pressing on business circles engaged in cooperation with Lukashenka," Mikalai Khalezin said after the talks.
The picket in front of Grayling's offices was carried out according to plan. Hollywood stars Kevin Spacey and Jude Law, Andrei Sannikov's sister and initiator of criminal proceedings against Lukashenka Iryna Bahdanava, Free Theatre head Natallia Kaliada, British actress Adjoa Andoh and chief executive of Index on Censorship John Kampfner attended the picket.
The picketers were holding portraits of political prisoners in their hands. Kevin Spacey had a portrait of Zmitser Bandarenka, a coordinator of European Belarus civil campaign, Jude Law had one of Natallya Radzina, the editor of charter97.org website.
Others not less famous picketers were holding portraits of Andrei Sannikov, Iryna Khalip, Danik Sannikov, Anatol Lyabedzka, Mikalai Statkevich, Uladzimir Nyaklyaeu, Alyaksandr Atroshchankau, Pavel Sevyarynets and others.
Speakers talked about the Belarusian political prisoners, who are now in the KGB jail going through the judicial conveyor belt that sentences them to huge terms by an order of dictatorship. Europe's main task for today is to stop the Belarusian dictatorship going mad and brutally cracking down on citizens. If artists can speak and people listen to them, they need to speak demanding to release political prisoners and end up with the last dictatorship in Europe, the picketers said.
After a picket outside Grayling offices, the column marched to the British Parliament, where a short meeting and a press conference attended by all main British newspapers and agencies was held. Some of the theatre figures and demonstrators entered the House of Commons Grand Committee Room for a closing event of the day. It was opened by John Kampfner and famous British playwright Sir Tom Stoppard. The audience consisted of representatives of more than 10 London theatres and British MPs.
Some scenes from Mikalai Khalezin's play "Generation Jeans", dedicated to freedom fighter in Belarus, were performed to the admiring audience. The main roles were played by Mikalai Khalezin (in Russian) and Jude Law (in English). After the performance, the British MPs expressed a desire to hold hearings on Belarus in the nearest time. Watch a photo report of our London correspondent this afternoon.
Photo: www.accidentalsexiness.com