Belarus State Media Bans Hollywood Stars
112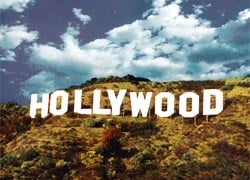 Belarusian bloggers have published a list of artists and musicians, which are presumably forbidden for mention in state media.
This list has been supposedly received by all main state mass media. The list includes both Belarusian and foreign celebrities. Among the foreign names on the lists are the Pet Shop Boys, Tom Stoppard, Jude Law, Kevin Spacey and many others.
It is easy to see this list as a specific kind "revenge" for prominent people's attention to the situation in Belarus before and after the recent rigged presidential elections.
A special place in the list has the Belarus Free Theatre, whose leaders Natallia Kaliada and Mikalay Khalezin have done a lot to get the attention of global cultural leaders to the tragedy of Belarus.
Here a translation of the document:
List of artists and bands:
Belarus:
music bands Lyapis Trubetskoy, Palats, Krama, NRM, Neuro Dubel, Krambambula, Naka
singer Zmitser Vaytsiushkevich
the Belarus Free Theatre (under director Natallia Kaliada, Uladzimir Shcherban, Aliaksey Shyrnevich, Iryna Yarashevich, actors Aleh Sidorchyk, Pavel Haradnitski, Dzianis Tarasenka, Yana Rusakevich, Maryna Yurevich, Mikita Valodzka, Artsiom Zhaliazniak)
writer Volha Ipatava
members of the Council of Belarusian Intelligentsia: People's Artist of Belarus Zinaida Bandarenka, poets Henadz Buraukin, Siarhey Zakonnikau, Anatol Viartsinski, painters Mikola Kupava, Aliaksey Marachkin, playwright Uladzimir Khalip, film director Yury Khashchavatski, film director Uladzimir Kolas.
Russia:
music bands DDT, Naiv, Tarakany
singer Dmitry Spirin
writers Andrey Bitov, Boris Vasilyev, Alexander Gelman, Viktor Erofeev, Leonid Zhukovitsky, Kirill Kovaldzhi, Eduard Uspensky.
Europe:
rock and pop music: Neil Tennant and the Pet Shop Boys, Robert Luis and Tru Thoughts, Wah Wah 45, 7 Samurai (all UK);
playwright Tom Stoppard (UK)
actors - members of the Global Artistic Campaign in Solidarity with Belarus: Kevin Kline (USA), Ian McKellen, Samuel West, Jude Law, Kevin Spacey (UK)