EU welcomes decision by third countries to join sanctions against dictator
17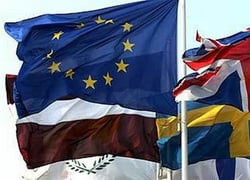 The European Union welcomes the decision by some non-EU countries to join the sanctions against certain Belarusian officials.
The European Union welcomes alignment of certain third countries with the Council implementing Decision concerning restrictive measures against certain officials of Belarus.
The following countries have declared that they support the EU sanctions: Croatia, the former Yugoslav Republic of Macedonia, Montenegro and Iceland (the candidate countries to join the EU), Albania, Bosnia and Herzegovina and Serbia (the Countries of the Stabilisation and Association Process), Liechtenstein and Norway (members of the European Economic Area).
These countries have declared that they share the objectives of Council Decision 2011/174/CFSP of March 21, 2011. The Council Decision amends the list of individuals subject to restrictive measures in Belarus.
The EU imposed restrictions as a response to dispersal of mass protests in Belarus in the aftermath of the presidential elections on December 19, 2010.