German and Polish nationals arrested in Minsk
13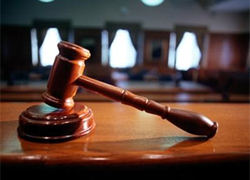 Participants of a picket against construction of a nuclear power plant in Belarus were fined 525,000-700,000 Belarusian rubles on April 26.
Among the detained picketers were nationals of Belarus, Germany and Poland.
As Radio Svaboda reports, a picket on April 25 near the Pushkinskaya metro station gathered almost 25 people, 12 of whom were detained by police and spent the night in a detention centre. The detained, anarchists and activists of ecological and social movements, were tried today for taking part in an unauthorized picket.
The picketers were accused of hindering pedestrian movement, holding a banner "We are against nuclear reactor", shouting slogans and attracting attention to them. The evidence was given by police officers, who had detained the activists. All people detained were fined. Another activist, Ihar Truhanovich, was detained on April 26 near the court building, when he tried to make a photo and put questions to a policeman.
Alyaksandr Yarashevich told a picket near Riga shopping centre was organized on April 25. None of the picketers was detained. all of them went to the Pushkinskaya metro station to hold another picket against a nuclear power plant in Belarus.
"We began to unfurl banners, but a bus with police in mufti appeared. 12 people were detained, among them six citizens of Germany, one Polish girl and five Belarusians. Foreign activists decided to support us, because they struggle for closing down NPPs in their countries and stand against construction of new ones. A spontaneous solidarity action took place in front of the Embassy of Germany in Belarus, where people gathered to demand the release of the detained activists."
German national Gude Hanson did not admit her guilt in court. A lawyer asked policemen in what language Hanson had chanted, but they said they did not remember. The lawyer asked to acquit her client, but judge Svyatlana Misuna fined the girl 700,000 rubles. Gude Hanson says legal grounds were not explained to her and she did not have proper interpretation:
"We almost did not eat. We had nothing to drink. Sleeping places were very bad. It was very cold to sleep."
Belarusians were fined 700,000 rubles. Only Alyaksandr Buhaeu got a fine of 525,000 rubles.