Sting won't come to Minsk
30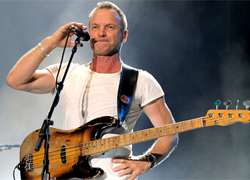 As told by "Allstars" concert agency, which organized the gig, the concert by Sting in Minsk has been cancelled "because of the difficult financial situation" in Belarus.
The concert was to take place in Minsk Arena on June 27, but the agency changed the music venue and transferred it to Vilnius, BelaPAN informs.
It is also planned that a tour to Lithuania is to be organized for Belarusian fans. The concert agency invites everyone desiring to attend the concert.
The organizers recommend returning the tickets for the Minsk concert of the singer, as they would not be valid for the concert in Vilnius. We remind that the cost of tickets for the show in Minsk was from 150,000 to 1,5 mln Belarusian rubles.
"Allstars" concert agency is one of the organizers of Shakira concerts. Shakira is going to perform in the Belarusian capital, however. Costs for her concert tickets remain the same.