EU diplomat: Belarus has zero chances of getting the IMF loan
7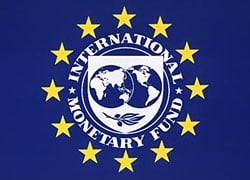 The European Union is skeptical about the IMF loan request from Belarus.
"The United States and the European Union have a casting vote to decide whether to grant the requested loan," a diplomat of one of the EU countries told a 'Nasha Niva" correspondent. He expressed an opinion that "Belarus has zero chances of getting the IMF loan if political circumstances are not changed".
The International Monetary Fund does not deal with politic focusing exclusively on economy, he admitted. However, the countries that can influence a decision cannot "close eyes to the situation".
We remind that Belarus requested the IMF for a loan of $3.5 to $8 billion due to the country's monetary crisis. Earlier, Russia refused to issue a loan to Minsk.
The diplomat said no particular talks with Minsk were carried out and signals that "Minsk possible send are not serious and inconsistent".
He reminded the statements by Alyaksandr Lukashenka in Astana about possible release of political prisoners that were followed by a sentence to Mikalai Statkevich and Dzmitry Uss. He also mentioned new restrictions in freedom of the media, in particular closing down the newspapers "Narodnaya Volya" and "Nasha Niva".
As the diplomat thinks, the EU will continue its tactics of ignoring if the situation is not changed.
As for the economic situation, the diplomat says he has an "impression that the Belarusian authorities do nothing". According to him, governmental officials negotiate with the IMF mission, but it is widely known that it is not government who takes decisions.
The diplomat does not rule out a possibility of spiral development of the crisis.