Alena Kavalenka" I doubt Syarhei will live to see the end of trial
22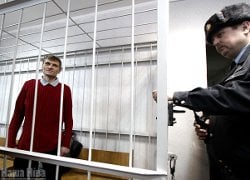 The wife of the political prisoner Syarhei Kavalenka says that he is going to continue the huger strike until he falls unconscious.
The hearings in the criminal case against the local activist of the Conservative Christian Party Belarusian Popular Front Syarhei Kavalenka started yesterday in the court of Pershamajski district of Vitsebsk, Belsat informs.
As said by the wife of the political prisoner, he is still in a very ill health: "I think that he is hanging between life and death. I think that a dry hunger strike can finish him off. I have great doubts that he would be able to survive these four days of the trial, I have really great doubts about that."
Alena Kavalenka says that her husband has decided to go all the way in his struggle. "I think that they are bringing him to death on purpose. As a minimum, they are destroying their health, so that he would not have other thoughts at large except for to survive."
The wife is convinced that Kavalenka would not eat and drink until the measure of restraint changed for him. "He is going to continue hunger strike as long as he has strength, until he falls unconscious."
We remind that Kavalenka was detained on December 19, 2011 and placed in the remand prison of Vitsebsk in the framework of the criminal case under Article 415 of the Criminal Code (evasion from serving the sentence in the form of restraint of liberty). The activist faces up to three years of imprisonment.
The reason for criminal prosecution were four violations allegedly committed by Kavalenka while serving the term under the verdict of the court of Kastrychnitski district of Vitsebsk. In May 2010 he was sentenced to a suspended three-year prison sentence after he put a white-red-white flag on top of Vitsebsk's tallest Christmas tree on January 7, 2010. This act was called by the court "premeditated actions blatantly violating public order and showing obvious contempt to the society."
In protest against the illegal detention Syarhei Kavalenka went on hunger strike on December 20. As said by his family members, he continues it up to this time, despite the attempts of the administration of the colony to feed him forcibly. Relatives have serious concerns about his health.