Syarhei Kavalenka: They fed me forcibly and menaced with mental hospital
110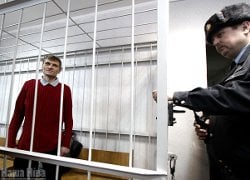 The political prisoner refused to sit down at court, saying: "I've had enough of sitting."
Today in the court of Pershamajski district of Vitsebsk hearing in the case of the local oppositionist, an activist of the Conservative Christian Party – Belarusian Popular Front Syarhei Kavalenka has started.
According to the wife of the prisoner on trial Alena, four sessions in his case are scheduled: on February 21, 22, 23 and 24.
Kavalenaka was detained on December 19 and placed to Vitsesk remand prison. He was detained in the framework of the criminal case under Article 415 of the Criminal Code (evasion from serving the sentence in the form of restraint of liberty). The activist faces up to three years of imprisonment.
The reason for criminal prosecution were four violations allegedly committed by Kavalenka while serving the term under the verdict of the court of Kastrychnitski district of Vitsebsk. In May 2010 he was sentenced to a suspended three-year prison sentence after he put a white-red-white flag on top of Vitsebsk`s tallest Christmas tree on January 7, 2010. This act was called by the court "premeditated actions blatantly violating public order and showing obvious contempt to the society."
In protest against the illegal detention Syarhei Kavalenka went on hunger strike on December 20. as said by his family members, he continues it up to this time, despite the attempts of the administration of the colony to feed him forcibly. Relatives have serious concerns about his health.
Before the court trial started, Kavalenka told the journalists who were present at the session that he was fed forcibly on the 20th day of his hunger strike. He was menaced by placing to a mental hospital. He was on a dry hunger strike for three days before the court. Yesterday he was visited by a psychiatrist.
Kavalenka talks with interruptions because he is very weak. He told that he is on a dry hunger strike for doctors to see the real situation with his health in case he would be admitted to a hospital. When people started to enter the court room, Kavalenka was singing the national anthem "Come, We Shall March in Joint Endeavour".