World experts to René Fasel: Do not play with the dictator
47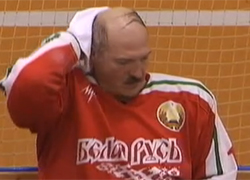 Leading analysts have urged tnot to hold a World Cup Championship in Minsk.
The Center for European Policy Analysis (CEPA) and Freedom House today released an Open Letter to International Ice Hockey Federation (IIHF) President René Fasel opposing plans to allow Belarus to host the 2014 Ice Hockey World Championship in Minsk.
Signed by 23 distinguished experts from the U.S. and European policy and pro-democracy communities, as well as leading European Parliamentarians, the letter calls on the IIHF to suspend its plans until Belarusian leader Alyaksandr Lukashenka unconditionally releases and rehabilitates all political prisoners and acts in accordance with accepted standards of governance in the treatment of Belarusian citizens.
"Countries must demonstrate worthiness for hosting such prestigious events by upholding universal human rights," the letter states. "We urge you and all members of the IIHF to stand on the right side of history by joining the international community in support of the people of Belarus and choosing to relocate the 2014 Ice Hockey World Championship from Belarus to a more democratic country."
"When we say Lukashenka's behavior and human rights abuses are unacceptable, we cannot sit idly by and let him host a major sporting event at the same time," said Freedom House president David J. Kramer.
"The situation in Belarus has deteriorated significantly since the Championship was awarded to Minsk in 2009," said CEPA Senior Policy Analyst Peter B. Doran. "Relocating the event is not an issue of mixing politics and sport – it is one of basic human dignity."
The Open Letter is the latest initiative of the Belarus Contact Group. Co-sponsored by CEPA and Freedom House, the Group represents a unique gathering of specialists and former senior government officials tasked with identifying actionable policy options for catalyzing democratic reform in Belarus. The letter supports the efforts of the European Parliament, EU Member States and the U.S. Congress, including the U.S. Belarus Democracy and Human Rights Act of 2011, which call on the IIHF to change the venue for the Championship. The release of the letter coincides with the IIHF's Annual Congress, which will convene in Helsinki, Finland on May 17, 2012.
The letter was signed by 23 distinguished experts from the U.S. and European policy and pro-democracy communities:
Victor Ashe (Former U.S. Ambassador to Poland)
Ian Brzezinski (Atlantic Council)
Susan Corke (Freedom House)
Pavol Demeš (German Marshall Fund)
Peter B. Doran (Center for European Policy Analysis)
Joerg Forbrig (German Marshall Fund)
Laurence E. Hirsch (Center for European Policy Analysis)
Bruce Jackson (Project on Transitional Democracies)
Donald Jensen (Center for Transatlantic Relations)
Dakota Korth (Halifax International Security Forum)
David Kramer (Freedom House)
Irina Krasovskaya (We Remember Foundation)
Robert Kron Jr. (Center for European Policy Analysis)
Edward McMillan-Scott (Member of the European Parliament Alliance of Liberals and Democrats for Europe)
David Merkel (Center for Transatlantic Relations)
Wess Mitchell (Center for European Policy Analysis)
Stephen B. Nix (International Republican Institute)
Robert Nurick (Atlantic Council)
Kristiina Ojuland (Member of the European Parliament Alliance of Liberals and Democrats for Europe)
Rodger Potocki Georgetown University
Peter Šťastný (Member of the European Parliament European People's Party)
Guy Verhofstadt (Member of the European Parliament Alliance of Liberals and Democrats for Europe President)
Sir Graham Watson (Member of the European Parliament European Liberal Democrat Party President)