Paavo Arhinmyaki: IHHF has put pressure on Lukashenko
3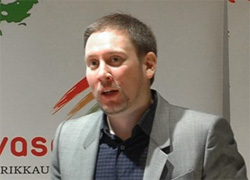 Finland's Minister of Sports and Culture Paavo Arhinmyaki asked IHHF to put pressure on Lukashenko
Arhinmäki then turned his attention to the human rights situation in Belarus. That country will host the International Ice Hockey Championships in 2014.
He called on the International Ice Hockey Federation (IIHF) to exert pressure on Belarus to improve its human rights record.
"The IHHF has not adequately debated what this means to a Belarus controlled dictatorially by Alexander Lukashenko. Holding the Championships there would strengthen both Lukashenko's grip and that of his government which ignores human rights," noted Arhinmäki.
In the Minister's opinion, Belarus must be pressured to instigate reforms.
"The International Ice Hockey Federation must clearly tell Lukashenko that if the country does not move to a better direction, then the possibility of pulling the games out from Belarus is possible," Arhinmäki concluded.