World Ice Hockey Championship will be in the Europe's last dictatorship
160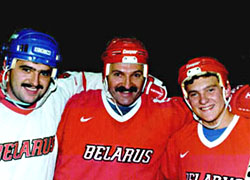 IIHF Congress approved Minsk as a place of World Ice Hockey Championship in 2014.
The 2014 World Ice Hockey Championships is the 78th such event hosted by the International Ice Hockey Federation. It will be on May, 9 — 25.
After the repressions and imprisonment of political prisoners that followed the controversial elections of December 19, 2010, many countries and internal opposition groups have expressed reservations about the award to Belarus . It has been noted that the president uses ice hockey as a propaganda device and that the country's sports associations are monopolized by his cronies - all of whom also are involved in the construction plans that are worth millions of dollars. Swedish newspaper Svenska Dagbladets editorialized that it would be disgraceful to have the championships hosted by a dictatorial country and preferable to move the tournament to Sweden and Finland, the hosts for 2012 and 2013.
In the German parliament, a new draft motion backed by Social Democrats and Greens has requested that the German Ice Hockey Federation should formulate a plea to the IIHF to find an alternate host.
A week later, the Center for European Policy Analysis and Freedom House also sent a letter to Mr. Fasel, calling on him to suspend plans to hold the event in Belarus. The letter, which is signed by 23 US and European policy experts, leaders of pro-democracy NGOs, and some European parliamentarians (including the former Czech international and NHL star Peter Stastny), cited the gross violations of human rights in Belarus, the crackdown since the elections, the regime's continuing incarceration of several political prisoners, and the issue of "basic human dignity." It notes the precedent of 1969, when the championship was moved from Czechoslovakia to Sweden to protest the repression of the 1968 Prague Spring movement.
On May 14, 28 members of the US House of Representatives appealed to International Ice Hockey Federation (IIHF) President Rene Fasel not to hold the 2014 world championships in Minsk. The politicians argued that the people of Belarus lack basic civil rights, that the situation inside the country has deteriorated significantly since the honor to host the championship was awarded to Belarus in 2009 and that the "unrestrained climate of repression" creates a concern for the safety of players, coaches and fans who will attend the event.