Lukashenka doesn't like the head of the OSCE observers
25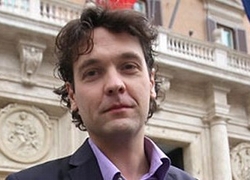 The dictator believes that the OSCE could find "a more knowledgeable person" to oversee the "elections" than Matteo Meсacci.
Recall that the Italian Matteo Mecacci was appointed by the OSCE Parliamentary Assembly a head of the observers on the upcoming "elections" in Belarus.
"I think that they might find a more knowledgeable person in the part of Belarus and the situation in Belarus. We are now carefully studying all of these positions and, of course, will react accordingly", - said Aliaxandar Lukashenka during his meeting with Russian Foreign Minister Sergei Lavrov.
As the dictator pointed out, in anticipation of the upcoming "parliamentary elections", there are some disturbing factors. "You know there is now a revitalization of political activity, and it not always goes in the right direction. But for now there are no any disturbances in Belarus, except the West, who always can throw a problem", - underlined the Belarusian dictator.
Matteo Mecacci has always been fundamental and objective in assessing the situation in Belarus. The Head of the Committee on Human Rights of the OSCE maintained contacts with relatives of the political prisoners in Belarus, including the sister of presidential candidate Andrei Sannikov, Irina Bagdanava; repeatedly met with the editor of the site charter97.org, former political prisoner Natallia Radzina, constantly raised the issue of human rights violations in Belarus at all levels.