Is one of the directors of Dankoff Club arrested for running a brothel?
52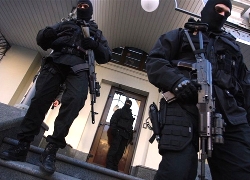 Aliaksei Ksianevich, director of the 5th floor of the club, was arrested on suspicion of running a brothel.
Now he is in detention facility. That wrote in "Facebook" Viachiaslau Dianau. This he learned from one of the employees of the institution.
As the website charter97.org reported, yesterday in Dankoff Club arrived police in masks.
According to the eyewitness, the club did not work, and passport details of all clients, who came to the club that night, were copied. At the entrance to Dankoff Club and in his hall were people in the uniform of SWAT. On their heads - masks with slits for the eyes. One of them took the spectator to some man in civilian clothes, who checked his documents and copied all the data. After that, he was advised to visit the club, "some other time", saying that today he "will not work", and escorted him to the exit. The witness says that they were dealing with other visitors of the establishment in the same way.
According to the witness, several dozen law enforcement officers in civilian clothes were noticed around the club. Not far from the establishment were parked a green SWAT MAZ truck - one of those that people mistakenly called police wagons.
Journalists were able yesterday to have a short conversation with the club's owner - famous Belarusian businessman Yuri Dankoff. He confirmed the fact of the "mask show" in his establishment and said that this is just a usual raid check, which were many in the history of the club. However Dankoff suggested that in this case there was some sort of "order" by competitors of the country's oldest entertainment complex.