Who was killed in Minsk: a Georgian MP or a Russian criminal boss?
61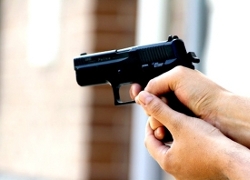 A former member of the Georgian parliament, Bondo Shalikiani, has been killed in Minsk.
A man looking like a representative of Caucasian countries, who accompanied him, was also killed, Georgia online reports.
Bondo  Shalikiani was considered to be the most influential person in Imereti region. He controlled oil products business and owned Kutaisi TV company.  Shalikiani was repeatedly accused by different political forces, also by a former governor of Imereti region, of having links to criminal world.
In March 2004, Tkibuli majoritarian MP Bondo Shalikiani was detained by Georgian law-enforcement agencies during a special operation. Police said he had different kinds of firearms in his house.
As Interfax-West news agency already reported, the Investigation Committee of Belarus (IC) opened a criminal case in connection with the murder of a Russian citizen in Minsk.
"The IC initiated a criminal case under part 1 of art. 139 of the Criminal Code on the murder of a Russian citizen, born in 1967, which took place last night in Minsk.
Urgent investigative actions are being carried out," Interfax-West news agency learned from the IC Department of Information and Public Relations on Tuesday.
As sources in law-enforcement services reported to the agency on condition of anonymity, " According to preliminary information, the killed Russian citizen was a crime boss of one of the former Soviet republics. The murder was a result of showdowns between two criminal gangs from foreign states."
"It is established that several shots of a firearm have been made into the victim, including shots in the head, in the yard of an apartment block on 31  K.Chernogo Street at about 1:10 a.m.," the department said.
"At this moment the investigation suggests that several people were involved in the murder. All possible versions of the crime are being investigated. One of the main versions is the contract killing connected with criminal showdowns,"  the IC noted.