Another raid on Dankoff Club. Owner detained
119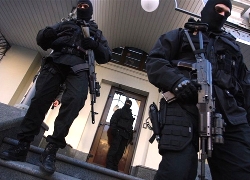 A masked assault team headed by Azarau, the deputy head of the Main Organized Crime Department, detained Dankoff Club owner Yury Dankov some minutes ago.
Timafei Dranchuk shared this information on Facebook.
"They wrote down my passport data and allowed me to go. They are now searching Dankov's office. They tried to take away my phone after a call to journalists," Timafei says.
It should be reminded that the club was already raided on August 24. The Investigation Committee initiated a criminal case against Dankoff Club art director and administrator basing on materials of the Main Organized Crime Department. Actions of officials were classified as "exploitation of prostitution or creating conditions for prostitution committed by an officer of state with the abuse of power" (part 2 of article 171 of the Criminal Code of Belarus).
Investigators raided and searched homes and offices of suspects and questioned witnesses. Dankoff Club art director was detained under article 108 of the Criminal Procedure Code.