Natallia Pinchuk: No concessions to regime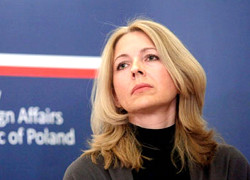 Ales Bialiatski's wife called on the West to be consistent in relation to Belarus.
Natallia Pinchuk attended the Third Human Rights Defenders Forum in Vilnius. The wife of political prisoner Ales Bialiatski calls not to close the question of rehabilitation, not to reduce pressure on the Belarusian authorities and not to make concessions until all political prisoners are released, Radio Svaboda reports.
"Some human rights defenders began to propose in their articles and speeches to lift demands for the full rehabilitation of political prisoners. They say the regime will never agree on it. But I think we must be consistent first of all. If we began to demand the rehabilitation, we must keep to this position. Secondly, people's rights remain restricted without rehabilitation. They have only half-freedom," Natallia Pinchuk said.
Ales Bialiatski's wife confirmed her appeal to the US and the European Union to have a firm, consistent and concerted stance on the Belarusian regime.
"Official Minsk understands only force, firmness and consistency. It regards hesitations and compromises as weakness of the opponent. We, relatives of the political prisoners, expect firmness and applying all instruments from the European Union and the US. It's very important that the US and Europe have a concerted approach," she said.
Natallia Pinchuk is sure that her husband, who serves his term in a correctional colony in Babruisk, shares her opinion.
There are more than 10 political prisoners in Belarus. Former presidential candidate Mikalai Statkevich, businessman Mikalai Autukhovich and other opposition activists remain behind bars.
The international community and human rights groups demand to release the Belarusian prisoners of conscience. Seeking the release of political prisoners, the European Union and the US imposed visa restrictions and economic sanctions on accomplices of the regime – the officials and businessmen involved in repression and financial support to the regime.