Makei seeks advice in Kremlin before visit to Tbilisi
60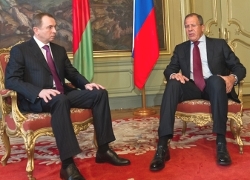 Makei asked permission of the Russian foreign minister to visit Tbilisi.
Political observer Raman Yakauleuski drew attention to this fact in an interview with Euroradio.
The expert thinks the visit of the Belarusian foreign minister to Tbilisi was discussed with his Russian counterpart Sergei Lavrov.
"I'd like to turn attention that Makei was in Moscow shortly before his visit to Tbilisi. There is no official information that the Georgian issue was discussed with his counterpart Lavrov. But according to unofficial information, Makei sought Lavrov's advice whether he should go to Tbilisi or not," Raman Yakauleuski thinks.
Yakauleuski reminds that official Minsk took a long pause before announcing who would represent the country at the meeting in Tbilisi. It is only after the Moscow visit that information appeared Uladzimir Makei would visit Georgia.
The expert commented on the information about a possible meeting between Saakashvili and Lukashenka. In his opinion, it is possible that Makei is to make some proposals, but spreading this information is more profitable for Mikheil Saakashvili, who is losing his political weight in Georgia.
The Belarusian delegation led by foreign minister Makei is taking part in the summit of the Eastern Partnership countries in Tbilisi.