Janusz Onyszkevicz: Scenario of military exercise in Belarus is war against NATO
38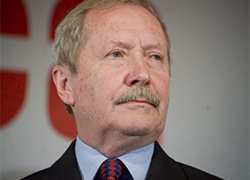 Poland's former Defense Minister is concerned over the joint Belarus and Russia's military exercise.
Janusz Onyszkevicz, who currently occupies the position of the Defense Ministry's advisor, highlights that there is no direct military threat to Poland today. However, the buildup in arms near the Polish border – in Kalinigrad region and Belarus, as well as Russian army's large-scale military practice with the accent on attack are the reasons for concern.
He shared his view of the situation in an interview to Polskie radio.
"Military exercises are often a political instrument. This is a certain signal. That is why we are concerned over the military practices that took place in Russia and Belarus, because their scenario is very clear. This is the scenario of a war against NATO. But no one in NATO intends to go into a war with Russia or Belarus", - Poland's former Defense Minister claimed.
Janusz Onyszkevicz's interview was dedicated to the Day of Polish Army, which was celebrated on 15 August on the anniversary of the battle of Warsaw.
"I would say that it was the victory over Bolsheviks, not Russians, because we managed to impede their spreading to Central and Western Europe. This is a paradox, I know that, but this was not only to the benefit of the Poles and Germans, but also Russians, Ukrainians and Belarusians. Of course, for the Polish army this day is a moment to think of what the Polish army is and what it will be", - Janusz Onyszkevicz said.
The former minister highlighted the necessity of the modernization of the Polish army and the importance of the country's cooperation with NATO.
We would note that the military exercise West-2013, scheduled for the next month, aroused concern with other Belarus' neighbors as well.
So far there is not enough official information on the exercise's scenario and the armed forces involved, however there is an assumption that they would be reminiscent of the military practice West-2009, which caused great resonance. Over 12 thousand troops took part in the exercise then. Officially the exercise was called defensive, aimed at supporting the strategic stability in the region. However, according to some reports, their scenario provided for attacking the territory of the Baltic States and a preventive nuclear strike on Warsaw.
Photo: wprost.pl