Belaruskali halts production
184
30.08.2013, 10:54

163,050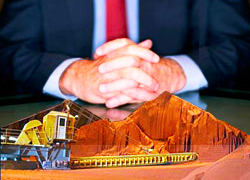 The enterprise stops extracting potassium for an uncertain period and lowers the salary of all workers by a third.
The charter97.org web-site has learnt about that from a high-level Belaruskali's employee.
"Everyone is seeing salary cuts by a third. They were swamped there in August and they will be in September. May be by February they manage to finish the work. Lots of documents must be remade. They all have their heels on fire. All the warehouses are overloaded, and, naturally, the production has been halted. But there in one mine, which works stably. They start them one by one in order for the equipment not to remain inactive too long", - he said.
We would remind that a month ago Uralkali stopped exports shipments via Belarusian Potassium Company (BPC), and on Monday Uralkali's director general Vladislav Baumgartner was arrested in Minsk.