Belarusian spy detained in Poland was diplomat
30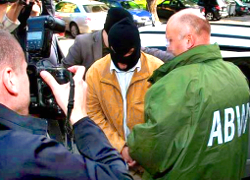 One of the Belarusians, detained under the suspicion of espionage, was a military attaché.
Yesterday the charter97.org web-site reported that Poland's Internal Security Agency (Agencja Bezpieczeństwa Wewnętrznego, ABW) took in custody two citizens of Belarus, suspected of intelligence activities for Russia.
It came out that Polish military intelligence followed one of the detained and then handed his case in to the ABW. The agency itself does not provide any information and refers to Warsaw Appeal Prosecutor's Office. – We are controlling ABW's investigation on the espionage case, - the prosecutor office's press-secretary Zbignew Jakulski says. At Warsaw district court they said that on 19 February a request came for the arrest of a citizen of Belarus, who was accused of espionage activities, Gazeta reported.
The other detained is a diplomat – Belarusian military attaché. According to the newspaper's sources, he was caught photographing military objects in Bydgoszcz – NATO's training center.
The Polish services believe that both of the detained worked for Russia. – There is no difference to us between Belarusian and Russian spies. Both countries have joint intelligence, managed by the authorities, - a high-ranked official from the Polish Interior Ministry explained.
Yesterday a special commission tried to learn more about the spies. A parliament member Stanislaw Wzetek told journalists in the Parliament that the detained "did harm to the state". – One of them used various ways for transferring information on important elements of the state's functioning and the national defense, - he said. The other spy "was supposed to attempt at destabilizing the state".
Photo from PAP's archive