Dalia Grybauskaite: EU countries should not yield to aggressor's blackmail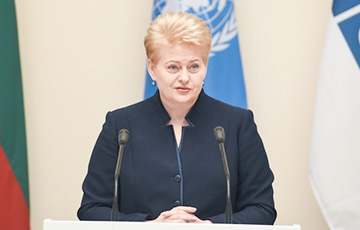 Russia's aggression and post-Soviet imperialism are the greatest threats for Europe today.
The statement was made by president of Lithuania Dalia Grybauskaite, Evropeiska Pravda reports.
"Being a part of a free and democratic Europe, we should not yield to the aggressor's blackmail today," she noted.
"We cannot agree with inciting a new war and celebrating the seizure of a part of Ukraine by attending the parade in Moscow while the Russian army demonstrates its muscles," Grybauskaite stressed.
According to the Lithuanian president, Europe's moral duty is to struggle against any form of aggression, hatred and any attempt to occupy other countries.
"Our duty is to defend peace, democracy and freedom of European nations to make sure that the painful lesson of history – Holocaust, inhuman cruelty, aggression and enforced division of Europe – will never be repeated," she said.
Grybauskaite noted that Russia's aggression and post-Soviet imperialism were the greatest threats for Europe today.
"We now deal with the same aggression and imperial intentions as 70 years ago. We must defend our values and principles from the state that is a permanent member of the UN Security Council," she emphasised.
"We cannot allow destroying of what was reached due to the reconciliation, integration and hard work of Europe," Lithuanian president added.