European Parliament Resolution: To Unblock Charter 97 Immediately And Stop Repression Against Media
22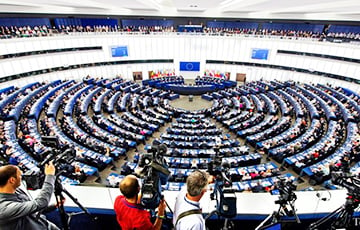 The European Parliament has adopted a resolution on the situation with freedom of speech in Belarus.
Central points of the resolution pertain to the blocking of unblocking the Charter97.org website.
The resolution entitled "On the worsening of the situation with media freedom in Belarus, in particular, the case of Charter-97"
The resolution mainly discusses the recent scandalous amendments to the Belarusian law on the media, blocking of the Charter-97 website, pressure on TV channel Belsat journalists and the "BelTA case." It also mentions political prisoners Dzmitry Palienka and Mikhail Zhamchuzhny, as well as convicted REP Trade Union leaders Hennadz Fiadynich and Ihar Komlik.
The document briefly describes the principles of the Charter-97 declaration, the history of the site's creation and the persecution by the authorities. "The founder of the site, Aleh Biabenin, was found hanged in his house near Minsk in 2010," the declaration says.
"Starting from January 24, 2018, the access to the Charter-97 website has been blocked in Belarus on the basis of "vague accusations of threatening national interests."
The document mentions the death threats received by the site's chief editor, Natallia Radzina.
The difficult situation with the media in the whole is described: "In 2017, more than 100 journalists were arrested," "Belarus ranks 155th place out of 180 countries of the world in regards to freedom of speech." The deputies have recalled the murder of Belarusian journalist Pavel Sharamet in Kiev in 2016.
The resolution mentions the searches in the editorial offices of the tut.by website, the BelaPAN agency and the arrests of journalists in August of this year and their criminal prosecution.
Several paragraphs are devoted to new amendments to the law on the media. The law comes into force on December 1 of this year. Online media will have to register all their commentators and provide this information to the authorities.
The European Parliament considers the blocking of the Charter97.org website as "unacceptable" and calls on the Belarusian authorities to remove the blocking "immediately and unconditionally."
The European Parliament calls on the European External Action Service to make the assistance projects and cooperation with the authorities dependent on real steps towards democratization, including their full respect for media freedom.
The European Parliament urges EU High Representative Federica Mogherini to cooperate with the UN rapporteur on Belarus.
It will be recalled that on September 3 editor-in-chief of Charter-97 Natallia Radzina announced the threat to informational resource cause by drastic reduction in financing and called readers for solidarity. Ways to support the website:
DONATION VIA PAYPAL:
MULTI-CURRENCY ACCOUNT FOR ASSISTANCE:
Bank's name: Bank Millennium S.A.
Address: ul. Stanislawa Zaryna, 2A, 02-593, Warszawa
IBAN: PL 97 1160 2202 0000 0002 1671 1123
SWIFT: BIGBPLPW
Name of the account holder: Fundacja "KARTA '97"
Purpose/title of payment: Donation for statuary aims
You can contact us by the e-mail charter97@gmail.com