MEP Marek Jurek: Today, Belarusian People Are Fighting For Their Memory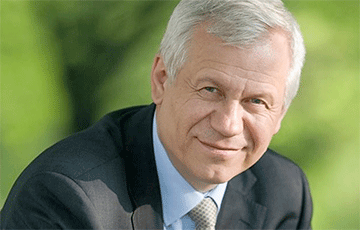 The European Union must help the Belarusians in their struggle.
The speech by Polish MP Marek Jurek, delivered on the eve of the vote on the resolution "On the worsening media freedom situation in Belarus, especially the case of Charter-97" at the plenary session of the European Parliament in Strasbourg on October 4.
The words of MEP are cited by social activist Dzianis Kazakevich:
"Belarusians are significant and close people for us; Belarus is a country bordering on three countries (that is, more than one-tenth) of the European Union. Today, these people are getting onto their memory, fighting for their memory.
According to estimates of Polish-British historian Norman Davis, more than a quarter of a million people were killed in Kurapaty near Minsk. It is gratifying that Kurapaty has become a place of worship and memory. Today, it faces desacralization. People's protests are held. The Archbishop Metropolitan of Minsk and Mahiliou says that the memory of Kurapaty victims, respect for this cemetery (where there are crosses, and most of the victims are unknown) is a test of humanity, a test of people's identity.
I appeal to the Belarusian authorities: prevent the desacralization of this place, join the cultivation of the memory about the huge human tragedy that should unite us all. It is time to condemn all the crimes of communism!"
Recall, on October 4, the European Parliament adopted the resolution "On the deterioration of the situation with media freedom in Belarus, in particular, the case of Charter-97."
The resolution mainly discusses the recent scandalous amendments to the Belarusian law on mass media, blocking of the Charter-97 website, pressure on journalists of the Belsat TV channel and the BelTA case. Political prisoners and convicted leaders of the REP Trade Union Hennadz Fiadynich and Ihar Komlik are mentioned as well as.
It will be recalled that on September 3 editor-in-chief of Charter-97 Natallia Radzina announced the threat to informational resource cause by drastic reduction in financing and called readers for solidarity. Ways to support the website:
DONATION VIA PAYPAL:
MULTI-CURRENCY ACCOUNT FOR ASSISTANCE:
Bank's name: Bank Millennium S.A.
Address: ul. Stanislawa Zaryna, 2A, 02-593, Warszawa
IBAN: PL 97 1160 2202 0000 0002 1671 1123
SWIFT: BIGBPLPW
Name of the account holder: Fundacja "KARTA '97"
Purpose/title of payment: Donation for statuary aims
You can contact us by the e-mail charter97@gmail.com