Vadzim Kabanchuk: We Have Something To Recall, To Be Proud Of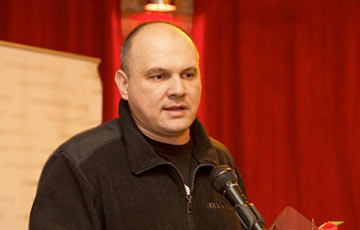 Bright pages have been written down into the history book of contemporary Belarus.
Former Belarusian political prisoner, ex-head of the KRAJ organization, one of the founders of the ZUBR movement in Belarus and Belarusian volunteer in Ukraine Vadzim Kabanchuk has sent the website Charter97.org his birthday wishes:
"I want to congratulate the team of the Charter'97 with the 20th anniversary of the founding day! 20 years is a moment for those who took part in the stormy civil and political events since the end of the 90s, these 20 years is a whole epoch. Probably, we had inflated expectations and waited for quick changes, probably, we were too romantic in something, but bright pages have been written down in the history book of the contemporary Belarus. Let's look back for a moment, we have something to recall and something to be proud of…
The enforcement of the dictatorship and the threat of annexation made parliamentary struggle impossible, active Belarusians switched to the street resistance. The website Charter97.org has become not only the ground for the informational support of the Resistance, but coordinated it, to a certain extent.
The media resource's adherence to principles and consistency soon took it to the leading positions in the Belarusian segment of the Internet. One can have different attitude to the form of conveying information, and the content of the resource, but for me it is evident that the website Charter97.org has been enduring the informational war, not playing pluralism in the conditions of a ghetto, since the very moment of its founding.
Sadly, there are losses at war. In 2010, founder of the website Aleh Biabenin was villainously murdered. The editor's office had to emigrate from Belarus after the massacre and arrests, the website is being blocked…
Regardless of all obstacles, the website works and keeps its popularity, which is most important. I think this is the confirmation of the effective work of the team.
Happy anniversary, Charter!
Vadzim Kabanchuk, your reader."
Important to note, on September 3 Editor-in-Chief of Charter97.org website Natallia Radzina stated there was a threat to the work of the website due to the sharp decrease of financing, and called the readers for solidarity. You can help the website by doing the following:
DONATION VIA PAYPAL:
MULTI-CURRENCY ACCOUNT FOR ASSISTANCE:
Bank's name: Bank Millennium S.A.
Address: ul. Stanislawa Zaryna, 2A, 02-593, Warszawa
IBAN: PL 97 1160 2202 0000 0002 1671 1123
SWIFT: BIGBPLPW
Name of the account holder: Fundacja "KARTA '97"
Purpose/title of payment: Donation for statuary aims
You can contact us by the e-mail charter97@gmail.com