Hot Operation Testing Of Reactor System Started At BelNPP First Power Unit
15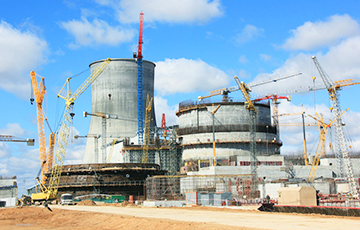 This process precedes the launch of the power unit.
At the first power unit of the Belarusian nuclear power plant, specialists began the most ambitious phase of commissioning before the physical start-up of the power unit - the hot operation testing of the reactor, according to the Rosatom press release, writes tut.by.
According to Vital Palyanin, Vice President and Director of the Belarusian NPP Construction Project for ASE JSC (Rosatom Engineering Unit), the hot operation testing is a technological process that simulates the operation of a power unit with the only difference being that dummy assemblies are loaded in the reactor instead of real ones.
During the hot operation testing, specialists will check the operability of the main equipment of the power unit for compliance with operation and safety requirements. They will also test the protection systems of the first and second circuits against excess pressure, and will test the operation of the main circulation pumps under cold and hot parameters of the reactor installation. In addition, the test program includes checking the power supply system for auxiliary needs under interruption modes, completely de-energizing the power unit with modeling the situation of the maximum design basis accident.
"We have reached the finish line of the program for preparing the power unit for physical start-up," Palyanin noted. "The next stage after the hot operation testing is completed, in accordance with the plan for preparing the power unit for physical start-up, is an audit of the main and auxiliary equipment of the first and second power unit circuits."
The start of the first power unit is scheduled for January. Previously it was planned that the first unit of the Belarusian NPP would work in 2018. But due to the fact that Belarus decided to replace the reactor vessel because of the incident, the launch was postponed till 2019.
The Belarusian nuclear power plant in Astravets is being built according to the Russian project; an export loan of up to $ 10 billion was also issued by Russia for the construction.
The danger of the BelNPP, numerous accidents and violations during the construction, corruption schemes and technical shortcomings of the reactors and equipment supplied by Rosatom have been repeatedly reported by Belarusian and foreign nuclear experts and environmental activists. During construction, at least a few people were killed due to safety violations, the reactor was damaged twice - during installation and transportation. The workers, who rebelled due to wage delays, also reported numerous cases of neglect during the construction.
The closure of the Belarusian NPP became one of the main requirements of the European Belarus civil campaign and its candidates at the "parliamentary election".
The investigation film by Studio X97 "Astravets: The Death island" sheds light on unknown facts about the construction of the Belarusian Nuclear Power Plant.