"Protests May Break Out All Over Belarus"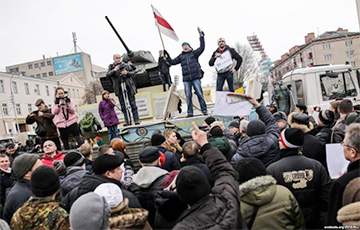 The catalyst for the outbreak of discontent can be any event in any region of Belarus.
The protests of the Brest people against the construction of a Chinese battery factory continue unabated. On the eve, the indignant citizens, instead of the usual standing at the central square and feeding the pigeons, went in a column through the city center of the. Belsat also took to the streets of Brest and asked passers-by how they feel about the construction of the plant and the protests against it.
Raman Kisliak, human rights activist:
"They have detained Vital Kozak and Uladzimir Vialichkin. Uladzimir Vialichkin is a human rights activist, Vital Kozak is a social activist. They were invited by the police for an interview, but in the end, they did not come out, they were detained. [...] Some people are desperate, people are just not heard. The authorities do not hear the arguments – everything is fine, everything is within the law, everything is checked. Although in reality, we cannot get to the factory and check whether the products are technologically safe. [...] The protests will not stop, people are resolute, I must admit. 40 thousand signatures have been collected – an unprecedented figure for Brest."
Yury Hubarevich, chairman of the For Freedom movement:
"Our decision to come was long overdue, but it was important to visit the meeting, because activists had been detained the day before – this was our manifestation of solidarity with the detainees. We had to show by example that there is nothing to fear. [...] The catalyst for an explosion of discontent can become any event in any region of Belarus, since Brest is not the only point on the map of our country where such tension exists. It may flare up all over Belarus ..."