Kachanava Met With Gypsies After Shunevich Refused To Apologize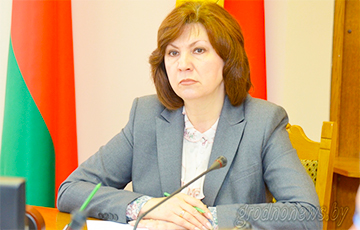 The head of the Interior Ministry was supposed to be at the meeting in Mahiliou, but he didn't come.
Mahiliou Roma met with officials and head of the Lukashenka administration Natallia Kachanava, Belsat reports.
On May 22, the leadership of Mahiliou regional executive committee invited representatives of the Roma diaspora to come to the meeting.
The Roma have collected signatures to a collective appeal to Lukashenka's representative in Mahiliou region, describing the situation: how the riot police were storming their houses, how they were beaten and detained for 24 hours. But they haven't sent the appeal yet.
It is known that not all representatives of the Roma diaspora from the two villages came to meet with officials. All the media that tried to get to the meeting were not allowed in, including the state media.
The meeting lasted for an hour. As it became known from the representatives of the Roma diaspora, Mahiliou officials apologized to the Roma.
The meeting was also attended by the head of Mahiliou City Executive Committee, Uladzimir Tzumarau, Lukashenka's assistant – Mahiliou region inspector Mikhail Rusy, and the head of Mahiliou regional executive committee Leanid Zayats.
According to the participants of the meeting, there were also tablets of press secretary of Aliaksandr Lukashenka Natallia Eismont and Minister of Internal Affairs Ihar Shunevich on the table.
About 40 people from the diaspora came to the meeting with the officials
We remind you that before the meeting in the "parliament", journalists asked Interior Minister Ihar Shunevich how he assesses the situation around the Roma diaspora in Mahiliou after the death of the traffic policeman, tut.by reports.
– I assess the actions of my subordinates in this part as absolutely justified, responding to the circumstances in which the investigation of this particularly serious crime was carried out. There were grounds and reasons, we worked with a separate group only on the basis of the evidence obtained at that time. The source of evidence was the information from the victim, so we had no doubts about the reliability of those data at that time, and we were obliged to check all the versions, including the one on which the decision to check the diaspora of some of our citizens was based.
Ihar Shunevich said that "the minister has no reason or grounds to apologize to the Roma."
We remind that after the death of a traffic policeman near Mahiliou, a real hunt against the Roma, who were considered the murderers of Yauhen Patapovich, started in Belarus. In the early days, more than 100 representatives of the Roma diaspora were detained.