NEXTA Speaks Out on New Conscription Rules: The Story with 'Parasites' Reoccur'
43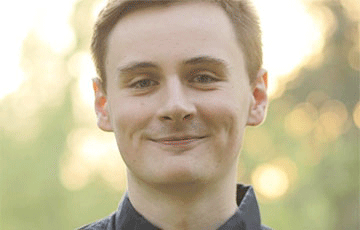 A popular blogger sees the strike as a way out.
On 26 June, the "House of Representatives" voted in the first reading for the new law on conscription. The draft law provides for only one deferment to continue education in Belarus. The border will be closed for "dodgers".
In addition, the draft law provides that those who have evaded the army will not be hired for public service, as well as for internal affairs, Emergencies Ministry, IC, etc.
How do the Belarusians feel about this innovation? Charter97.org asked blogger Stsiapan Sviatlou, known as NEXTA, for comments. He actively covered the events related to the new law on his Telegram-channel.
- This law is completely irrelevant for Belarus. It is weird that the "parliament" considered it urgently, under the "guise" of the European games, when all the students are on the go and nobody understands what happens. Instead of more people with a master's degree in the country, instead of raising prospective young people, the authorities do their best to make them leave the country as soon as possible.
About 1.5 million Belarusians have already left the country. They work and study abroad. Who wants to waste a year and a half to the idiocy, which is happening in the Lukashenka army?
They have a chance to shoot only a few times during the entire period of service. Soldiers die under the wheels of military equipment because of stupid orders. Lukashenka says that we have few people serving in the army. The authorities rush to bring changes. The majority of Belarusians won't accept the law in this form.
- What image has the Belarusian army among young people?
- I can speak for the majority. It is clear that there are people who are not much interested in public life and their attitude towards the army differs. "Every man must serve" and all this stuff. More educated and promising people understand that this is a waste of time. They see what is happening there and I write about it on my Telegram-channel. It turns out that most young people do not want to serve.
- Doesn't it seem strange that the authorities decide to increase the number of recruits at the expense of young people who have ambitions and want to continue their education?
- They simply don't stand their ground. Lukashenka said that "we lack people in the army". The government have rushed to implement his decree by any means. If it comes to a protest Lukashenka will say that other ways should have been applied. In general, the story with "parasites" will reoccur. I don't think officials take an initiative here. They get an order and they carry it out while students are at home.
- The new law was actively discussed by Belarusians. In one day the petition against the abolition of the deferment collected 10 thousand signatures. Are Belarusians so shaken by the issue?
- Many students surf social networks; Telegram is developing. It made the mobilization of young people possible in a short time. At the same time, as soon as I wrote that petitions in our country did not work, I was accused of "treason of moral principles", "double standards". They said that "you're only twenty years old and do not see the point", and they even said that I had a "complex of a charterman".
As far as we can see, today the authorities don't give a monkey about all these petitions and comments on the Internet.
- What is the way out?
- It's a strike. It is not new, by the way. If the struggle is on only on the Internet, the authorities take advantage of it. They know that this is the only resentment. I conducted a survey on my Telegram-channel. It showed that 23% of Belarusian students are ready for a strike, while 28% say they would support it if it is a large-scale one. It turns out that about 50% of Belarusian students are ready to take part in the strike. It is clear that it has never happened before in Belarus, so it's hard to predict whether people go on strike.
To implement the idea, one should work with students, disseminate information about the strike so that there would be many people involved. As soon as students, officials, and KGB officers realise that it is really popular, this law will either be repealed or postponed, as it happened to "parasites".
I'd like to recall an ancient parable. The old man asked his children to break the broom in half, they failed. When it was loosened, they could easily break each straw. It's also true for students. If two or three students take a stand, they will be expelled and forgotten. If a whole course or what is more the entire university goes on strike, it will make the authorities feel terrified.
- What detachment of the Belarusian army would you be ready to serve in?
- First, a year and a half is too much. I guess six months is enough. In the future, it will be wise to have a professional army with a contract enlisted service. And the second option is the summer training camp, but they should be involved in something really useful.
Another question arises: does this army make sense if we hold joint parades with the only country that poses a threat to us?