Pavel Spiryn: Belarusians Must Become Masters In Their House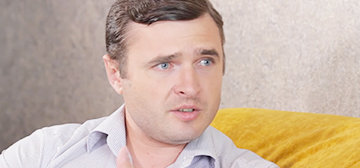 The blogger has shared his recipe for turning Belarus into a country for life.
Blogger Pavel Spiryn told Siarhei Tsikhanouski on the Country for Life channel that he had started running his channel on YouTube more than 5 years ago.
He was moved to this decision by the complete absence of reliable information in the state media. "Reliable information is needed for changes for the better and for the country for life, and people must follow this information," - Pavel Spiryn says.
When Pavel was a candidate for deputy, he realized that without his own channel it was impossible to convey his position to a large number of voters. The channel can help to convey the thoughts and ideas to people.
Pavel Spiryn's first documentary "Step-Father" was watched by about 1 million people. After the release of the film, about 5 checks were carried out in respect of Pavel, and all of them did not reveal in the film facts of violating the legislation of Belarus.
Pavel has a legal education and was very accurate in presenting in the video hard-hitting information regarding the top officials. In this film Pavel presented his vision of the country's political system and assessed the activities of the leadership.
"Over the last decades we have been moving in the wrong direction. Belarusians must be masters in their own country, show active civic position, not be indifferent to what is going on around them. Independence is a right that one has to reap. The right to manage your own house. We can protect it and remain masters of our own home. This is very important. After all, where there is no master - there's mess and destruction," - Pavel Spiryn told Siarhei Tsikhanouski.
In the film "Threshold" Pavel Spiryn showed the problems of drug use and distribution, the punishment for these crimes. The blogger believes that such severe punishment for these crimes committed by children cripples the lives of young people and causes serious damage to the state.
He believes that serious reforms are needed in this regard. It is necessary to change people's thinking and psychology in order for us to live in the Country For Life.
We need to show others how to act so that Belarus does not follow the path of degradation, but follows the path of development.
"Most Belarusians are in need of changes," - Pavel Spiryn believes.
Pavel won't go to the parliamentary "elections," as he has been an observer at "elections," and knows that there are no fair elections in Belarus.