"To See National Symbols Is Like Breath Of Fresh Air For People"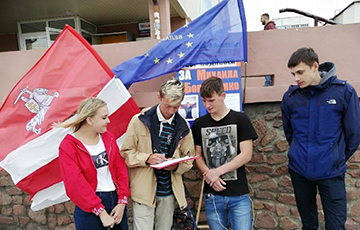 And the authorities, on the contrary, get nervous about it.
The activist of European Belarus from Mozyr, Mikhail Bandarenka, told the press service of the campaign about the mood of the citizens at pickets to collect signatures:
- The collection of signatures is going well. We've already got about 120-130 from pickets. Most of our activists also visit apartments.
People come up to us at pickets, talk, ask something, offer something, take interest in the plans and offer help. Some people sign up at once after seeing the national symbols. For them it's like a breath of fresh air.
Officials, on the contrary, are nervous. Recently, I received an audio tape from the company Mozyrsol, on which a local chief threatened her subordinates not to sign for us. She even remembered Zubr.
These threats from the stuck-up officials are ridiculous. They only show that we are doing everything right.