Minskers Queue To Flower Shop For Two Days To Support Shop Owner Who Was Brutally Detained
13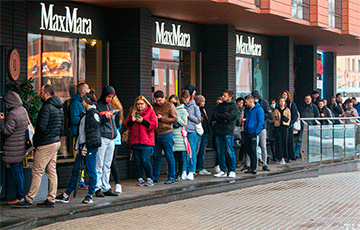 Minsk residents decided to support Maksim Kharoshyn's business.
In the morning of October 13, Maksim Kharoshyn, the owner of the First Flowery flower shop, was brutally detained in Minsk. He was led out of the police station in a state of shock, and taken away in an ambulance. Minsk residents decided to support Kharoshyn's business, for two days already tens of people have been queuing up to his flower shop, and the sellers do not have time to unpack the flowers. The journalists talked to people in line and Maksim's wife, tut.by writes.
As the relatives and lawyer of Maksim Kharoshyn reported, physical force was used during the arrest, and in the Pershamaiski district police department, where the man was taken, he was beaten so that doctors had to be called.
Maksim Kharoshyn was taken to the hospital, he was diagnosed with injuries of soft tissues and internal organs. However, the Municipal Department of Internal Affairs of the Minsk City Executive Committee reported that "the information has not been verified in terms of causing bodily harm, which is reported in some Internet sources."
Queues to the shop
- Yes, there is a huge queue, - says a passer-by on the phone to one of her friends. This is it about the store on Kirau, 8 - the First Flowery.
This flower shop usually works for delivery and on orders, but for the second day there are queues of dozens of people lining up here to buy a bouquet. Instead of one florist, as it happens every day, five people and couriers work.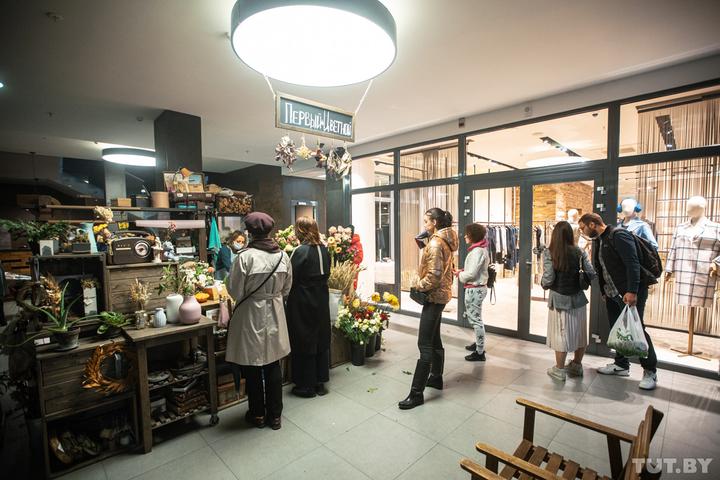 - We lost all counts - that's for sure, yesterday the line reached the end of our building. Probably 50 people were at the peak. We ran out of flowers, they were brought up all the time. This is definitely a record, because even on holidays we succeeded more and more in a planned way, - say the shop employees.
Volunteers also help the shop - they bring water and snacks, they come to take out the trash.
-People call and write to us a lot, express words of support. But we don't even have time to answer everyone.
"We cannot come and heal his wounds, but we can come and support him financially."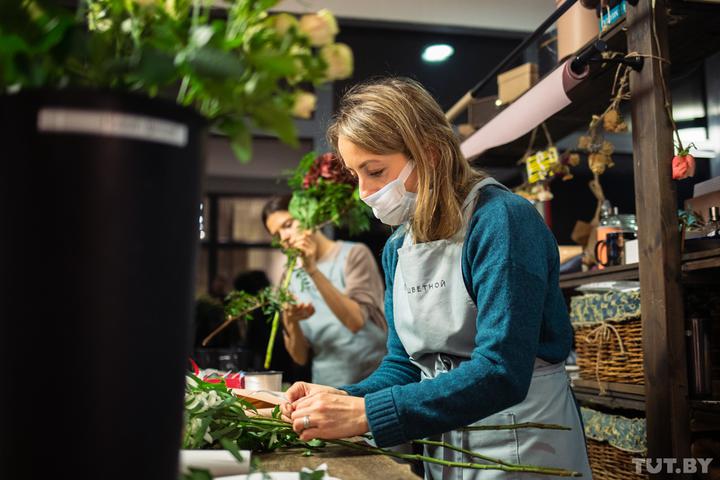 A girl named Nastya, wearing a red beret, comes out of the flower shop, photographs a small bunch of dahlias. She stood in line for it for more than an hour and a half.
- Today it all coincided: a good occasion (Mother's Day - edit.) coincided with a useful thing - I decided to support the store owners. Maksim and Katsiaryna are our neighbors in the district, I learned about what happened from the district chats. I'm glad I found out about this flower shop, but not happy about the cost this knowledge came. As Maksim himself said, "I would give everything to avoid this queue," but because of such events, we rallied more. Now even an unfamiliar person responds as close, - says the girl.
One of the men in the line speaks laconically: he came for a bouquet on Mother's Day, but it was this store that he chose to show solidarity with Maksim Kharoshyn.
- I have a place to buy flowers, but I came here, because anyone can be in his place. We cannot come and heal his wounds, but we can come and support him financially.
In the queue, the journalists noticed Dzmitry Semchanka, the ex-head of the presidential pool on ONT, who was sentenced to 15 days of arrest back in September. He went to talk with a friend from Zhodzina, and we talked with his wife Yulia Semchanka.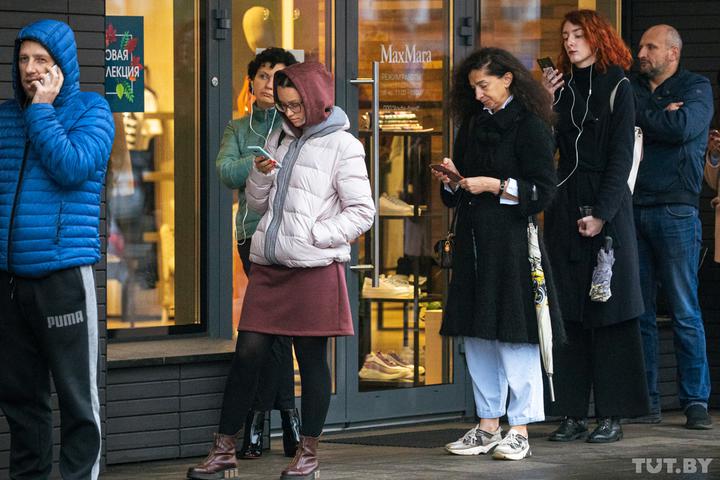 The girl has been standing in the line for a long time and is not going to leave without a bouquet.
- I think that yesterday all the mothers, sisters, and wives were simply crying when they saw these terrible shots, in what state the owner of this shop was taken out of the police department. Today I would still buy a bouquet for my mother somewhere, but I came here because I want to support the business. This is a drop in the ocean. But the sea is so huge - there are many of us. I have been standing for the second hour in line and this does not bother me in any way. A nearby store treats us to tea - everyone is warm here, but, I think, not only from the tea, - says Yulia.
While journalists communicate with customers, the queue for the store is growing, it has long gone outside the building, people line up to the parking lot.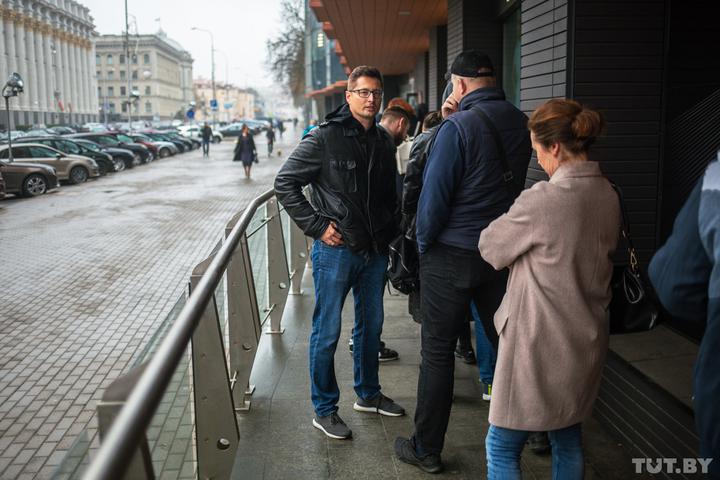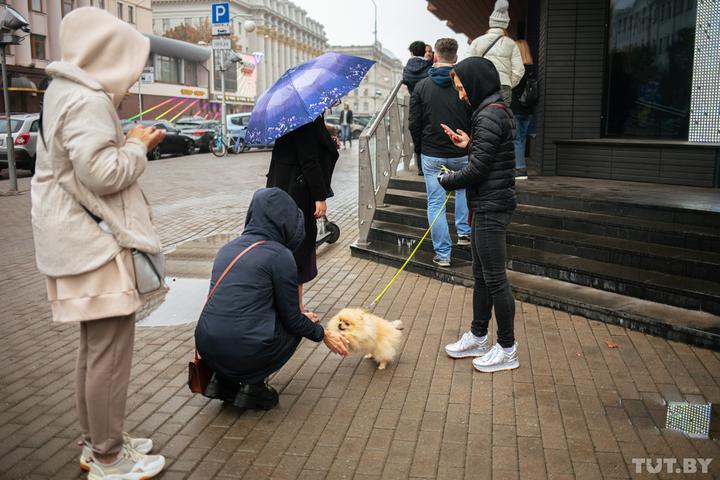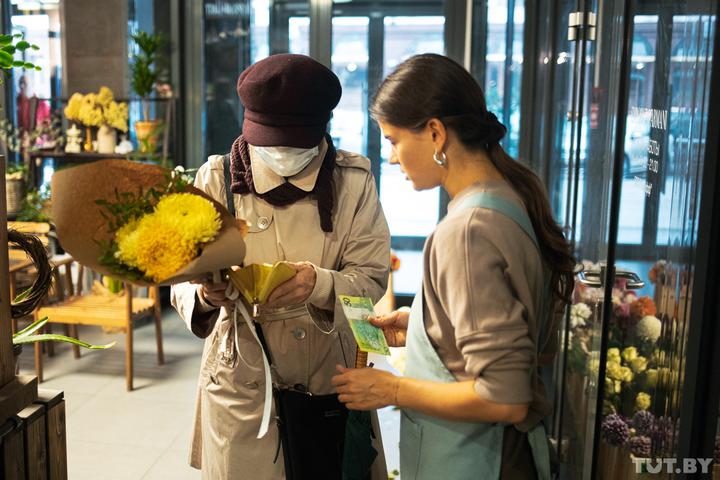 The First Flowery shop is a family business of Maksim and his wife Katsiaryna. She says that such support is the only good thing that has happened in their life after yesterday's events.
- So many people support us and show solidarity, it's cool that people unite and help. We also want to thank them when we come to our senses. What is happening now is something incredible. Our colleagues bring us flowers for free, buyers stand in the rain - endless gratitude to everyone, - says Katsiaryna.
According to the interlocutor, the shop was preparing for the excitement over the Mother's Day holiday, but they see that the main flow of people consists of those who wanted to support Maksim. She says that it is not easy for employees now, but they are coping.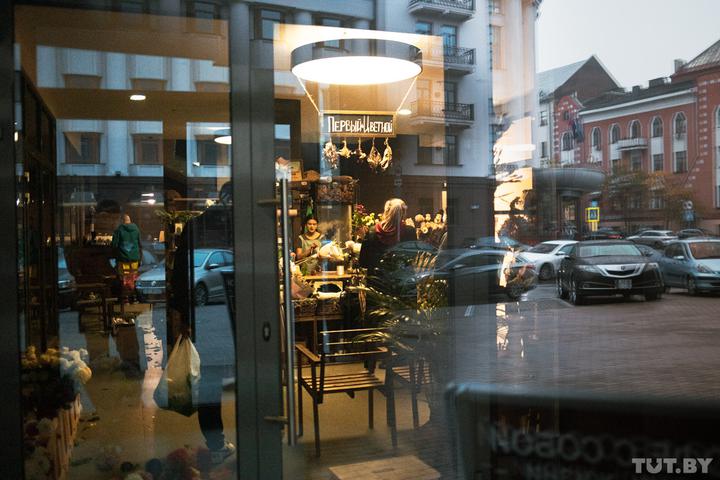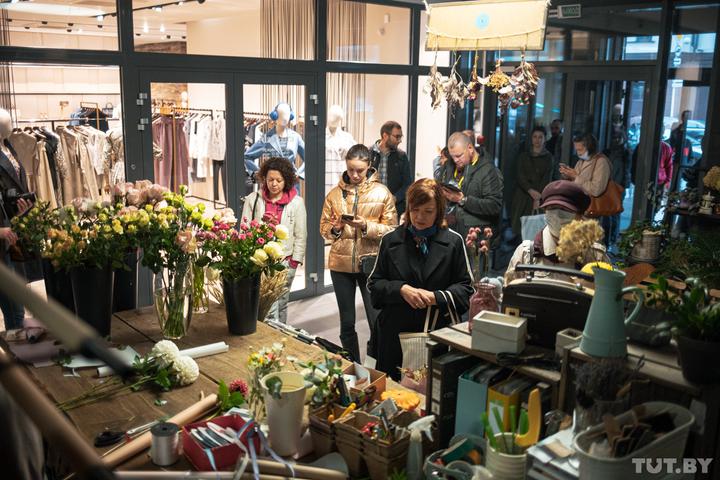 Katsiaryna says that Maksim is now in the hospital.
- After the night he felt a little worse, he was injected with a sedative. The doctors ordered an additional examination, because some other injuries were revealed. That's all that I know. As far as I and the lawyer know, no charges have been brought against Maksim, besides the comment of the Municipal Department of Internal Affairs of the Minsk City Executive Committee.
Katsiaryna considers the comment to be incorrect.
- I think they called an ambulance on their own, because he had an attack of suffocation, my husband has asthma, and he begins to choke under certain circumstances.
The woman thanks everyone who volunteered to help the family and their business.