Integration 'By Rules Of Underworld'
Valer Karbalevich
20.02.2020, 16:13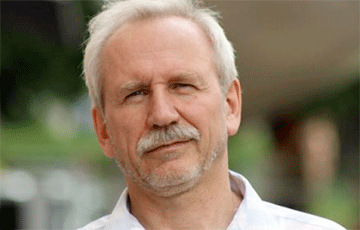 So what did Lukashenka and Putin talk about for eight and a half hours in Sochi?
As often happens, A. Lukashenka shortly after another meeting with V. Putin tells the public about the content and results of the negotiations. Moreover, such revelations are characterized by his own interpretation of the results of the negotiations, which is often the opposite of the version of the Russian side.
That is exactly what happened this time. Precisely one week after the summit in Sochi, A. Lukashenka spoke about it as he met with the staff of the Svetlahorsk Pulp and Paper Mill. As usual, A. Lukashenka was very controversial.
Each time A. Lukashenka more and more openly reveals the Kremlin's plans for Belarus's accession to the Russian Federation. He returned to this topic several times: "There's a hint that we need to be one country. And how can you have one country with Russia? You probably hear: "Let's integrate Belarus into Russia" ... Someone wants to have one country there - then there will be uniform prices ... They already say: enter Russia, then we will supply you with spare parts, then there will be different prices for oil and gas ... Why getting ahead of themselves, put pressure, include us into something?" In the same way, according to the Belarusian leader, the Russian media blabber about: "They understand integration as the absorption of Belarus by Russia. This is not integration, but incorporation."
In this situation, it would be quite logical for the Belarusian leadership to abandon this game of "deepening integration". Political scientist Aliaksandr Klaskouski asked a natural question: "Why play this Russian roulette?" Nevertheless, contrary to his own statements, A. Lukashenka declares: "We will continue to work on integration. There is nothing wrong about it."
The issue of oil supplies gives a curious turn of events. Let me remind you, following the talks in Sochi, the Deputy Head of the Presidential Administration Dmitry Kozak said that the Russian leadership will not provide any discounts to the ally, it is necessary to negotiate with Russian oil companies on commercial terms.
And the version of the results of the Sochi talks, voiced by A. Lukashenka, is completely different: "As we requested, we will pay the world price for oil, without any bonuses." That is, it must be understood that the Belarusian side requested, and the Russians agreed to sell oil without bonuses. Therefore, A. Lukashenka categorically stated that we would not pay these bonuses.
But now the second half of February has already begun, and there are no contracts for the supply of oil (not counting the companies of Mikhail Gutseriev).
Moreover, A. Lukashenka warned that they fail to agree on good terms, then Belarus will take oil from the Druzhba oil pipeline, through which Russian raw materials transit to Europe. "If they don't deliver it in February, we will get up to 2 million tons," he threatened. This is already like declaring war. But then it turns out that each side understood the agreement in Sochi in its own way.
No less interesting is the gas story. On February 14, Gazprom head Alexei Miller and the Belarusian ambassador to Russia, empowered by Deputy Prime Minister Uladzimir Siamashka, solemnly signed a protocol on the pricing procedure for the supply of natural gas to Belarus in 2020. It would seem, thank God, they at least agreed on the gas issue.
But it soon turned out that everything was completely different. On the same day, February 14, in Svetlahorsk A. Lukashenka said: "We agreed on a gas price of $ 127. But we will not pay Beltransgaz $ 18 dollars per thousand cubic meters. And it will come out, like last year, $ 111 dollars. "
But A. Lukashenka was immediately refuted by the representative of Gazprom Transgaz Belarus, the Gazprom subsidiary. According to his version, the contract price on the border with Belarus is $ 127 dollars per 1 thousand cubic meters. Plus, $ 19 dollars per thousand cubic meters is the company's bonus for the delivery of gas to consumers.
Then what did A. Miller and U. Siamashka sign?
The same controversial scenario is developing on the issue of the nuclear power plant. According to A. Lukashenka, the situation is as follows: "You know that the Russians had to launch the first block in 2018, and the second in 2019. But the deadlines were missed, and there were enormous penalties for that ... You missed the deadlines, so let's agree that the interest on the loan will be reduced to the level you are building in Hungary, in Vietnam (somewhere around 3%). We will not impose sanctions, and this is precisely what will happen. And the loan: since you have missed the deadlines, we will start paying it off not in two years, but in five. Isn't it logical? It is logical. It's uncomfortable, disturbing, but we decided that in this regard we must agree: there are no other option. A. Lukashenka emphasized that the Russian side did not reject the proposal.
Wonderful. We agreed on at least one issue.
But no. On February 11, four days after Sochi, Deputy Finance Minister Sergei Storchak noted that Moscow did not support Minsk's proposal: "At the same time, extending the period of use of credit funds and lowering the interest rate does not correspond to financial theory, so compromises must be sought in a different plane."
All this would be funny if it were not so sad. So what did they talk about for eight and a half hours in Sochi? It seems that people in their right mind and solid memory, sophisticated statesmen, after long discussions, came to an agreement, shook hands, went home. And now it turns out that both sides understand the agreements in exactly the opposite way! How can this be?
Around the world, the results of interstate negotiations are clearly recorded in relevant documents, protocols, treaties, agreements. It provides for sanctions for non-compliance. This is so elementary.
But in the Belarusian-Russian relations everything is different. This is called brotherly integration, that is, not according to generally accepted rules in the world, but "by the rules of the underworld". And now A. Lukashenka recalls that when Beltransgaz was sold to Russia in 2011, then Putin promised in five years to supply gas to Belarus at domestic Russian prices. Why is this promise not recorded in the relevant document?
It's another matter that here A. Lukashenka, setting out his version of the results of the negotiations, seeks to justify himself before the Belarusian society for the failure in the Russian direction. Say, it's not my fault that Belarusians will become worse off, it's all the cunning Russian brothers who played a dirty trick on us. Nice try. But it will not replace gas and oil.
Valer Karbalevich, Svobodnye Novosti