Polatsk Residents Told EU Ambassador About Fines for Support of Independence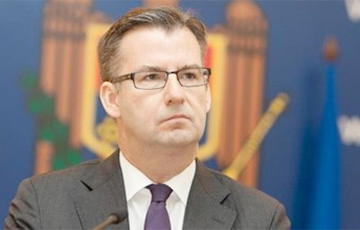 Dirk Schuebel visited Polatsk.
Public activists of Polatsk and Navapolatsk met with EU Ambassador to Belarus Dirk Schuebel in Polatsk. The ambassador visited Polatsk to open the new street lighting in the city, which had been re-equipped with the EU funds. An informal meeting with the ambassador was attended by the head of Information and Cultural Center "InitsyArt" in Navapolatsk, Volha Damaskina, reports Radio Racyja.
- We were just asking about this European Union project. People wonder how much money the EU allocated and how it is spent. Have there been tenders for this lighting? How much does one or another lantern cost? We understand that you and the District Executive Committee got a score to settle with each other, but people would like to know how the EU money is spent," Damaskina said.
Polatsk public representatives also told the ambassador about the legal cases for support of independence:
- We told about the picket for independence held early this year. It's just a photo, not a picket - people made a picture with the letters that made up the word "independence". For that, seven people have already been punished. They are sentenced to huge fines. The Ambassador said that he knew about the situation. Now the authorities fine to somehow replenish the budget.
The project of new street lighting in Polatsk cost 1.3 million euros allocated by the European Union.