Chief Physician Of Babruisk Emergency Station Dismissed
39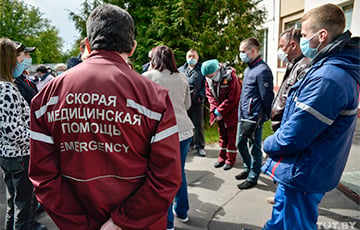 The day before the station doctors rebelled against the authorities' deception with extra fees and BT propagandists.
Siarhei Chudau, the chief doctor of the Babruisk emergency station, has lost his post. The paramedics of the ambulance station informed tut.by about it. According to the sources, today, on May 22, Siarhei Chudau is working his last day.
Siarhei Chudau's working number does not answer, but employees say he's at the station today.
According to our sources, Natallia Viazhnavets, the current deputy chief physician, will be in charge for the time being.
- Today everything is as usual, - Natallia said. - Siarhei Chudau is the chief doctor, I am his deputy. There has been no other order for the station.
When asked if she had any information about the dismissal of Chief Physician Chudau, Natallia stressed: "For today, everything is as I told you".
We remind that the meeting of ambulance workers in Babruisk on May 20 ended with a spontaneous rally. The scandal broke out because of the BT journalists, who came to shoot a story after the doctors' appeal to the Lukashenka administration about the extra fees for working with coronavirus infected. The management of the emergency station gathered the medics again "to explain the decree." And the medics got indignant when they saw and heard that the BT film crew was "shooting a beautiful picture."
On the day of the scandal, Siarhei Chudau refused to talk to the journalists, referring to being busy and the need to write an explanatory note to his superiors about what was going on at the emergency station.