Viktar Babaryka: Economy Is In Terminal State
53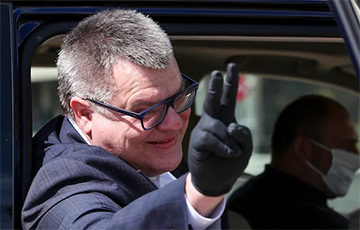 The presidential candidate of Belarus spoke about the peculiarities of the current election campaign.
Ex-banker Viktar Babaryka, who is offering his candidacy as a contender for the post of the President of Belarus, gave a long interview to the special director of the Russian publication Kommersant. The potential presidential candidate told how Lukashenka was going to win, answered the question about the "union state", and explained how he was going to build relations with the EU and NATO.
- I would like to start with your assessment of what is happening in the country. First - pickets, then - the detention of politicians and activists. Please comment, what are we observing now?
- It seems to us that this is a direct violation of the law. We, of course, are not participants in the process from the point of view of legal assessment, but it is clearly visible that rights and electoral legislation have been violated. Today we submitted to the CEC a rather large list of violations already recorded by us and our supporters. We will wait for the reaction. Our position is that we will definitely act in the legal field for now.
- When I talked with Siarhei Tsikhanouski before his arrest, he said that people in the country have been driven to the edge. Do you have a feeling of some kind of tension?
- I can't call it "the edge". I will call it: "people are tired." They are tired of the current situation, and want changes so much that they provide a completely different picture compared with all these 26 years.
- And how do you assess the incident with Tsikhanouski - the events in Hrodna that caused his arrest?
- What we see in the materials is an obvious provocation. We believe that this is a violation of the electoral law. The likelihood that this is a provocation is extremely high, and we are categorically against any provocations against potential candidates.
- It seems to be a technical process - the collection of signatures. Why is everything so brutal?
- The use of rather provocative and tough measures at this stage indicates clear weakness and misunderstanding by the authorities of the current situation. It's like the behavior during the COVID-19 pandemic. The inadequacy of the authorities' actions is obvious.
- And how do you understand the situation? Decipher what this situation is.
- Belarusians are tired of the situation in which they are. Belarusians were offended by the fact that the authorities, as part of their reaction to a rather serious threat, completely neglected the interests of the people and did not contribute to the protection of the people in a pandemic situation. And most importantly: people suddenly realized that they were not just folks, as they were called, but a nation. And this is unlikely to stop.
- The "Belarusian Sociological Workshop" recently published the data on the economic self-awareness of Belarusians. In December, 38% were dissatisfied with the situation in the country, and in March the figure rose to 61%. Does this reflect reality?
- We have services that conduct research. The sample that we analyzed representatively included 80% of the population of Belarus - we did not conduct a survey in the villages. And the data are completely comparable: 60% are absolutely dissatisfied with the existing situation.
- Is there a deep economic crisis in the country?
- As for the deep economic crisis, I would not say so. The country has a deep management crisis. Belarus actually doesn't need very much to recover. The proposals made by the same Council of Ministers, our government - I saw them; they are eighty percent very sensible and competent. Nothing of these was accepted into practice! That is, the measures are understandable, developed, they need to be taken. But it's precisely the management crisis, the position that cannot be explained by anything, that "if I want so, it will rain, there will be a drought or something else", this is a key point in the current situation.
- On June 1, Aliaksandr Lukashenka met with the head of the KGB and warned that there would be no "Maidan" in the country. It looks like a warning to the opponents, including you.
- We are also convinced that there will be no "Maidan". Why? Because we expect to receive an electoral majority, and it is practically impossible to resist the electoral majority. If the protest vote against the authorities is more than 50%, it is obvious that even "Maidan" is not necessary. It is another matter if there is 30–40% on one side and on the other - this is already close to some kind of "maidan". So far, we see no prerequisites for a large "Maidan". Power itself provokes some kind of action. Maybe they want the harbinger of the "Maidan" to be there right now.
- Do you plan to win?
- Definitely, otherwise I would not have done this project, and would not have gone there.
- Be that as it may, over the past 26 years no one has managed to defeat Lukashenka. What has changed now?
- Nothing lasts forever, this is first. Secondly, the last straw that broke the electoral majority ... there are two of them. The first is the rapid signing of the integration documents at the end of last year. It was prepared secretly from everyone, and brought a general feeling of loss of sovereignty. The second is the behavior of the authorities during the pandemic. These are two, from my point of view, most serious mistakes that have been made. And they can not be corrected, in any case, by the current government.
- How many signatures in your support have you already managed to collect?
- We already have about 100 thousand signatures, 85–90 thousand for sure. We have started verification. We definitely don't see problems with 100 thousand signatures.
- Do you admit there might be a situation in which the CEC will accept signatures, reject them and not register you as a candidate?
- We did some good check of the grounds under which signatures were rejected before, and we organized the process of collecting these signatures well. From the list of 10 thousand members of my initiative group that we submitted at the first stage, only two people were rejected. This is a sufficient reason to think that our verification process is organized very well. We fix everything in the documents, and the CEC will have to provide data on which they disagree with us. We will present photocopies of documents, and the CEC will not be able to add anything to the lists provided.
- Not all Belarusian politicians believe that the game will be fair.
- Belarusian politicians have been fighting for 26 years with methods that they think are right. I respect them very much, but the result is not yet visible. Let's look at our election methods.
- Are these some secret methods?
- No. It's just that legislation was written in the 90s, and modern technologies for identification, transparency have gone ahead. Never in my life in 26 years has anyone gathered 10 thousand people in an initiative group in a week.
- In your case, many noted this.
- So why no one notes that our technologies and our options are different from the previous 26 years?
- You received criticism from Lukashenka: accusations of lies and hints of external financing of your campaign.
- This was part of our complaint to the CEC, because if such things are announced, then this is the reason to remove the candidate from the election. And documentary evidence must be presented. Therefore, we demanded to provide documentary evidence that I lied, and that funding comes from foreign sources. If this is not done, this is called slander - and this is also a violation of the law. And we want the CEC to explain to us what in this case we should do, and what the CEC will do.
- I noticed that Lukashenka, when criticizing opponents, means three persons: you, Valer Tsapkala, and blogger Siarhei Tsikhanouski. What is this choice connected with? Do you pose the greatest electoral threat?
- It's more correct to ask him this question. One can only assume that this is because in the ratings, and in Belarus there are a lot of ratings published, although probably not very representative, these three names are always somewhere above, and they have a higher rating than Lukashenka.
- Why should Aliaksandr Lukashenka leave? What are three reasons? Well, or as many reasons as you want.
- I immediately recall the dialogue, in my opinion, of Napoleon with his generals: "Why did we lose the battle? First, there were no shells." We can stop on this. It's the same here. Because the economy is in the terminal state, after this you can just stop. I believe that, as Ulyanov-Lenin said, politics is a concentrated expression of economy. There is a clear understanding that it is the economy that determines the opportunity to preserve the sovereignty of Belarus.
- About sovereignty. You headed the Belarusian "daughter" of Gazprombank. You know Russian partners well. I cannot but ask about your attitude towards the integration between Russia and Belarus. Should it be deepened, should we further build the union state?
- Let's clarify. I did not head a "daughter", I headed a bank where the main shareholders were Gazprom and Russian Gazprombank equally. We did not have the status of a subsidiary bank of Gazprombank. Now, regarding the position on integration. I think that neither you, nor many readers of Kommersant saw the notorious "road maps," the thirty-one "road maps," which are referred to as documents of in-depth integration. To draw conclusions about what they contain, you probably need to read them.
Based on this, I can in principle express a position on any integration and alliance. It should mean two things: first, any integration should not affect the sovereignty of countries, and if it is affected, it should be equal for all participants. And the second story - it should be economically feasible for both parties, or for multilateral cooperation.
Obviously, Russia is a centuries-old partner, and the economy is not a car that can be deployed on the go with a police turn and go in the opposite direction. This does not happen. Certainly, relations need to be built, probably adjusted if they are economically disadvantageous for Belarus and make Belarus dependent. Partnership should not turn into addiction. This is the main message of any integration.
- And how should Belarus build relations with the EU and NATO? This question always worries Moscow.
- What I said, I can apply to any alliance - to the EU or to some other: mutual benefit and preservation of sovereignty. Now for the military blocs. Belarus is a member of the CSTO, and it's clear that there are a bunch of international agreements that you won't be able to get out of in one day. My position in relation to Belarus: maybe it will not be possible to do this within one or two terms after winning, but I would very much like to see Belarus as a neutral country.
- It is unlikely that Moscow will be delighted.
- You know, it all depends on how to position neutrality. The presence of neutral Switzerland, which kept all the most valuable at that time, was convenient for all states. Now the presence of a completely neutral country that stores another valuable resource - information, it seems to me also quite an attractive idea. It is necessary to work on it.
- To close the question of the European Union: should Belarus strive to integrate into this community or not?
- We must evaluate the pros and cons. What we see, even the situation in Ukraine, the integration there is quite conditional, certainly not the same as it was with the countries that had previously joined the EU: Poland, Lithuania, and the rest. Must watch. Belarus is a borderline story, we have been between two interests all our life, somehow we have always found compromise options. I hope that now we will strengthen this position.
What Viktar Babaryka is known for
Personal profile
Babaryka Viktar Dzmitriyevich was born on November 9, 1963 in Minsk. In 1988 he graduated from the Faculty of Mechanics and Mathematics of Belarusian State University, in 1995 - from the Academy of Management under the Cabinet of Ministers of the Republic of Belarus, in 2000 - from the Belarusian State University of Economics.
He began his career in an NGO of powder metallurgy, where he left in 1995 as head of the department of foreign economic relations. Since then he has been working in the banking system of Belarus. From July 2000 to May 2020 - Chairman of the Board of Belgazprombank OJSC (a subsidiary of the Russian Gazprombank). On May 12, 2020 he nominated himself for the presidential election in Belarus.
In 2008, he received a diploma of the Belarus Commission for UNESCO "for his great contribution to the development of international cultural ties", in 2014 - the honorary title "Patron of the Culture of Belarus".