Crazy In Head Cockroach Tries To Worm Himself To Charter-97%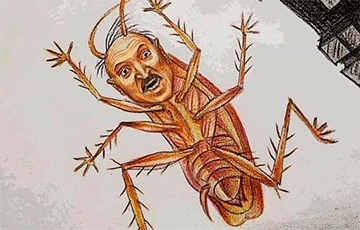 The Drazdy resident has finally lost his mind.
As is known, Lukashenka's rating is incredibly low and does not exceed 3%. Belarusians hate and despise the dictator. The whole country is covered with graffiti "Sasha 3%" and "I/We97%.
During the elections, our site, which is one of the leaders of the Belarusian Internet, turned into "Charter-97%." Sasha the Cockroach decided to worm himself to our site and the majority of Belarusians.
This was reported by the state agency BelTA.
"I apologize for my voice. I've had to talk a lot lately. But, most amazingly, you're meeting with a man today who has managed to go through coronavirus on the run. That's the conclusion the doctors made yesterday. With no symptoms," - the dictator said.
"As I said, 97% of the population go through the virus asymptomatically. "Thank God that I managed to get into this cohort of those asymptomatic, - Lukashenka said. - Finally, I got into the golden fund of Belarus, after getting this virus."