Lukashenka's Rascals Sentence Pavel Seviarynets To Another 15-Day Detention
31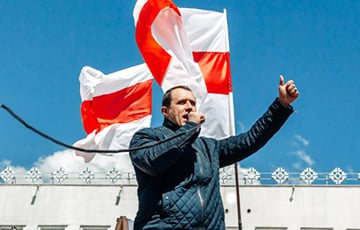 This is the fifth 15-day sentence in a row.
On July 8, judge of the Savetski district court of Minsk Vera Halaukova sentenced one of the leaders of the Belarusian opposition Pavel Seviarynets to another administrative detention for the term of 15 days. The trial was carried out via Skype, spring96.org informs.
This time, the politician was tried for "calling to participate" in the legal picket for the collection of signatures near the Kamarouski market on June 7, which was held absolutely lawfully in support of alternative presidential contenders. Seviarynets got 15 days of arrest for the actual participation in this picket earlier.
Pavel Seviarynets was brutally detained near his house on June 7 as he was returning from the picket at the Kamarouski market. The next day, he was sentenced to 15 days of an administrative detention.
As he was serving the punishment, the politician underwent at least three more "administrative trials", at each of them he was added 15 more days of arrest (he got 60 days of arrest on aggregate within one month). He has been held in the detention center on Akrestsin Street already for a month.
Important to note, the Young Front leader Dzianis Urbanovich told about cruel treatment and tortures that are applied against Pavel Seviarynets in the Akrestsin Street detention center.
Independent experts say that the actions of Lukashenka, Yarmoshyna and a number of security officers fall under Article 357 of the Criminal Code of the Republic of Belarus (seizure or retaining of state power by non-constitutional means), providing also for the death penalty.