Whom Will Tsikhanouskaya's Fellow Townspeople Vote?
2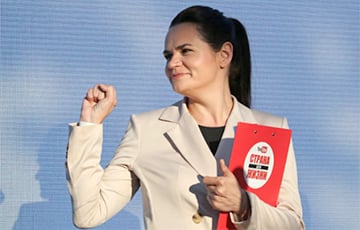 Residents of Mikashevichi are speaking about the election, and Sviatlana personally.
There are no political battles in the courtyards of Mikashevichy, but almost everyone talks about the election. And the name of Tsikhanouskaya is on everyone's lips, writes Media-Polesie.
- The fact that Tsikhanouskaya is like a Decembrist wife is quite logical. This is how we think, knowing who the Decembrists were, and who were those who followed them to the exile - the teacher of Sviatlana Tsikhanouskaya confirms (she asked not to give her name so as not to get fired) - It is true that she followed her husband, and showed her love.
Other residents of Mikashevichi were not afraid to speak, especially pensioners. Stsiapan Arlyanin, a former signal operator, is speaking in the Belarusian language:
- I will vote for Sviatlana Tsikhanouskaya. She is, as they correctly write on Media-Polesie, a real Decembrist wife, she went to support her husband. She was a very smart girl as a school student, and she is a very intelligent woman now.
At parting, Mr. Stsiapan said the following phrase:
- It cannot be like this forever. We need to change something, starting from the government. No one is unchangeable.
The pensioner advised the journalists to be careful. "If you write something, you may have trouble."
Maryja Horbat is also a pensioner, but she is full of energy.
- You wrote about my nephew ... Thanks to you, he achieved justice, - said Mrs. Maryja. - I will vote for Tsikhanouskaya.
Sviatlana's parents' neighbor, Anatol Harchenya, also agrees that Sviatlana Tsikhanouskaya, like a true Decembrist, followed her husband. And in general, she has always been very responsible.
Valiantsina Kaminskaya worked with Tsikhanouskaya's mother: "The children have always been well-behaved, very well-mannered. Of course, Sviatlana too ".
Volha Zastupnevich is also a colleague of Sviatlana Tsikhanouskaya's mother, works as a cook in the Granit sanatorium of the Svitanak Republican Unitary Enterprise, and also considers her a Decembrist woman, but does not think about a change of power. According to the woman, everything is calm and peaceful in the country, and so be it.
Ala Yarmolich put it this way:
- I haven't decided on either a president or a husband yet. I'm single for the time being, but we'll see. Will I go to vote? .. Most likely, no. I don't believe there will be a fair election, so why go? Although there is still time to think. But I'm definitely not going to participate in early voting.
- I will vote for Tsikhanouskaya, - says a young man Kiryl Lityaha, a graduate of the Brest Technological College, who temporarily works in the carrot harvest. - There is no work for me as a cook-bartender in Mikashevichi. As a young man, if I want to go to a disco dancing, I have to go to Sinkevichy.
- We are for Sveta! - Aliaksei Yarmolich and Ivan Sinko, who live in 14a on Pershamayskaya Street, spoke with one voice.
Even Aliaksei's sister from Minsk called and asked him to vote for the townswoman.
Anatol Shulepau, who lives in the same house, generally believes that there is no benefit from the elections.
- Here under the windows the well is clogged - this is a disaster, a real chemical reactor, - said Anatol Shulepau. - How will the elections affect this? No way.
Anatol Kukhnavets, neighbor of Sviatlana Tsikhanouskaya's parents:
- I didn't even know that her surname was Tskihanouskaya. Then it came when I watched it on TV. And I know the family under the surname Pilipchuk. Together we received apartments from "Spetszhelezobeton". The most beautiful family. And she really followed her husband, like a Decembrist wife, because she is very responsible. They are all so responsible in the family - both parents and children. This election somehow stirred me up, although I have never went to any elections. Everything was calm. And then I decided to go. I'm not against the government, but I must cast my vote as a citizen. And I will give it to my townswoman Sviatlana Tsikhanouskaya.