Israeli Radio Announced Boycott To Singers, Who Sang In Support Of Lukashenka
79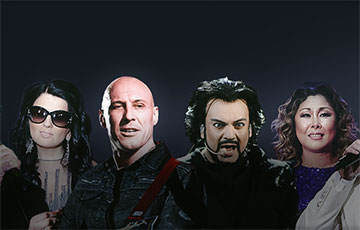 The artists who sang in the propaganda video got under sanctions.
Two dozen pop artists from Russia and Belarus sang a song in support of Lukashenka. The video entitled "Artists for Peace - Never Let Your Beloved One Go" was posted on YouTube on September 17.
It was recorded by: Filipp Kirkorov, Nikolai Baskov, Alexander Buynov, Denis Maidanov, Anita Tsoi, Diana Gurtskaya, Natalia Moskvina, and Belarusian musicians Ruslan Aliakhno, Aliaksandr Saladukha, Iryna Darafeyava, Aliona Lanskaya, Uladzimir Hromau, Anatol Yarmolenka, Zhanet, groups "Aura" and "Belarusy", and also the Hruzdzeus sisters, the Best Radio writes.
"Supporting the bloody dictator, whose power rests only on fear and violence, is a shame for the artist and the musician. From now on, we will eliminate the songs of these sycophants from our air. This is the minimum we can do for the freedom-loving people of Belarus. We call on our colleagues from Radio One and other radio stations that play Russian-language music to join the boycott of the dictatorship singers," - the editorial staff of the radio explained their position.