Why Do Important Workshops Stop at Hrodna Azot?
2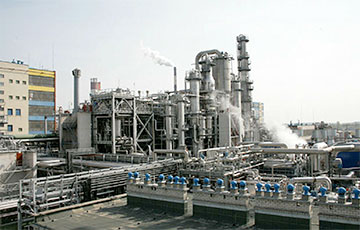 Outdated equipment cannot function normally even after repair.
On October 15, reports appeared about the shutdown of the Ammonia-3 workshop at Hrodna Azot, as a result of which a similar shutdown of the Urea-3 workshop was required.
The situation, in the light of recent events at the enterprise, would not have been so surprising if it were not for the fact that the workshop stopped a week after its repair.
The breakdown became known as early as September 2. During a planned walk-around, a crack was found on the transition cone of the riser pipe of one of the furnaces.
A gas leak has been reported. However, despite the danger, it was forbidden to stop the shop.
According to a source of the site Charter97.org from the plant, then there was a strong leakage of the mixture in one of the riser tubes of the furnace. The temperature of the mixture is 820 degrees, the pressure is about 30 atmospheres, which is a very serious violation of safety and further operation.
The personnel was simply forbidden to walk near the source of the threat. Fortunately, they made it to the planned stop without casualties. The management of the enterprise again endangered its employees for their own benefit.
During the planned repairs, the leakage was "eliminated." Start-up operations were carried out for several days, but, less than a week later, the shop stopped again. Morally and physically obsolete equipment, even after repair, cannot work normally.
Shop Ammonia-3, in which the breakdown occurred, was one of the most active in the strike in the fall of last year, as a result of which highly qualified specialists were dismissed.
"The management, as usual, has no time for its workers, which means that the workers will soon not care about the under-leaders, who get away with everything. The safety of people in such breakdowns is the most important factor. But we are left with no choice but to take care of ourselves and stay at home," a source told Charter97.org.